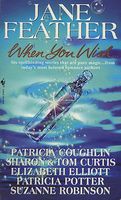 Newest Release
About the Author
Tom and Sharon Curtis are a husband and wife writing team. Married more than forty years, Tom and Sharon published ten historical and contemporary romance novels from 1976 to 1986, many of which have come to be regarded as classics in the genre. The Windflower is in numerous top 100 lists of best romances of the twentieth century, including Goodreads, The Romance Reader, All About romance, and Dear Author. Tom and Sharon have been featured on both The Today Show and Good Morning America.

The daughter of a petroleum geologist father and historian and magazine editor mother, Sharon was raised overseas and lived in Saudi Arabia, Pakistan, the Canary Islands, Turkey and Iran, and attended high school in London. As an adult, she worked in bookstore management.

Tom attended the University of Wisconsin in Madison and has worked for a public television station as a writer and on-air reporter. He is currently employed as a semi truck driver for a chemical company and plays guitar with a Celtic band that includes a son on bodhran and a daughter on fiddle. Together they have played eighteen years of annual performances at the largest Irish musical festival in the world.