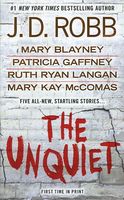 Newest Release
Bibliography:

26 Books - 1 Series

First Book:

January 1985

Latest Book:

October 2011

Rating:
Full Series List in Order
1 - Nevada Nights (Jan-1985)
2 - September's Dream (Dec-1985)
Multi-Author Series List
30 -
Snowbound Cinderella
(Jan-2000)
5 -
Snowbound Cinderella
(Jan-2000)
Book List in Order:
26

titles
Nevada Nights

IN VIRGINIA CITY, IN A CHEAP SALOON, CAMERON FOUND THE ONE MAN WHOSE MEMORY LIVED IN HER HEART The gentle beauty had left the convent where she had been raised to meet, at last, the father she had never known. But his sudden death thrust her in...

---

September's Dream

IN AN ICY WILDERNESS, A DELICATE BEAUTY DARED TO LOVE--THE TOUGHEST MAN IN THE YUKON! Lovely September Malloy traveled from San Francisco to Alaska with one dream-to find her renegade gold miner father. Then she was robbed by a smooth con man, and...

---

Destiny's Daughter

IN THE ANTE-BELLUM SOUTH, NEW ORLEANS WAS A CITY OF SCANDAL, DANGER…AND LOVE.. From her convent home, Annalisa Montgomery sailed downriver to her wealthy mother, a mysterious woman she had never known. En voyage, a handsome gambler flashed his h...

---

Passage West

A strong-willed beauty and a hardened gunman -- on a journey of passion and danger... ON A WAGON TRAIN HEADING WEST, LOVE COULD BE AS FIERCE AS THE LAND--AND AS UNKNOWN! At seventeen, Abby Market left the only home she'd ever known--Missouri--i...

---

The Heart's Secrets

A tempestuous Irish beauty. A California gentleman. A love challenged by... AMID THE ARROGANT MANSIONS OF SAN FRANCISCO'S NOB HILL, AN IRISH FIREBRAND WON A RARE AND SPLENDID LOVE... Dublin O'Driscoll left her tiny Irish island, traveling hal...

---

Captive of Desire

In a bitter legacy, they discovered the treasure of love... A fearless Irish beauty. A proud British warrior. From hatred's flames a blazing love would be forged... Strong-willed Alana O'Donnell was a fierce chieftain's daughter with an unconq...

---

All That Glitters

DREAMS OF GOLD Alexandra Corday has two consuming loves--her orphaned little brother and her singing career--until she meets Matt Montrose. The handsome son of a powerful Hollywood family, he's an ex-war correspondent making ends meet as a photojo...

---

Addy Starr

ADDY STARR An orphaned country girl, Addy fought her way to the top until she was the owner of the richest casino in Reno, Nevada. Although money wasn't everything to Addy, she needed it to search for the two sisters who had been cruelly taken fr...

---

Home for Christmas

in Holiday Inn

The Freedom Inn--Port Freedom, New Hampshire Across the centuries, the warmth of its hearth brings true hearts together at Christmastime. 1781 When Alexander Stark left his family's inn to join the War for American Independence, little did he ex...

---

---

Falcon's Lair

in Once Upon a Castle

#1 New York Times bestselling author Nora Roberts presents four enchanting tales of castles, spells, and happily-ever-afters...In Nora Roberts's "Spellbound," a bewitchingly beautiful lady casts a thousand-year love spell on the man of her dreams—a...

---

The Curse of the Castle Clough

in Once Upon a Star

While appraising the contents of a haunted castle, a beautiful professor uncovers a shocking series of secrets -- and falls in love with a desperate lord who's fighting to save everything he holds dear......

---

Snowbound Cinderella

The Fortunes of Texas: Membership in this family has its privileges... and its price. But what a fortune can't buy, a true-bred Texas love is sure to bring! THE STORM Famous and fabulously wealthy Ciara Wilde had led a charmed life -- until the...

---

The Enchantment

in Once upon a Dream

In an abandoned estate on a storm-swept night two stangers seek refuge - only to discover that their most elusive dreams of romance are as enchanted, as real, as true love itself......

---

The Roses of Glenross

in Once Upon a Rose

Love blossoms like the luscious petals of spring's very first rose... Sheltered in an abbey in war-torn Scotland, a lonely lass tends a haunted rose garden--while a heroic soldier basks in the pure glow of her love......

---

Sealed with a Kiss

in Once Upon a Kiss (Jove)

Her father may have given her hand in marriage to a fearsome warlord, but it's his trusted warrior who captures her heart... Love, passion, and desire. It all begins with a kiss......

---

Dream Lover

in Once upon a Midnight

On a business trip to Scotland, a young American disillusioned by love gets swept up by the romance of the Highlands--and by the charms of a perfect stranger......

---

Paradise Falls

In 1890 Massachusetts, Fiona Downey was no ordinary young woman. She had worked hard all her life to be admitted into the prestigious college where her proud father taught - in spite of those who sniffed that it was no place for a lady. But when her ...

---

Blood on the Moon

in Moon Shadows

A full moon is in the sky--and love is in the air... ...in this all-new collection of short stories from "four of America's most beloved romance authors" (Publishers Weekly) New York Times bestselling authors Nora Roberts, Jill Gregory, Ruth Ryan ...

---

Ashes of Dreams

Amanda Jeffrey has not been dealt an easy hand in life. Widowed at a young age, she is left on her own to raise three small boys, tend to her ailing father-in-law, and maintain a languishing horse farm in 1880s Kentucky bluegrass country. Not one to ...

---

---

Duchess of Fifth Avenue

When tragedy strikes, leaving her in charge of her best friend's son, Lana Dunleavy, a maid for a wealthy family, must transform herself into a lady with the help of Jesse Jordan, whom she hires to teach her the ways of high society, but instead gets...

---

The Passenger

in Bump in the Night

Enter a world where no boundaries exist--and where every seduction is supernatural... Follow four of today's most provocative authors to a place where love can transform reality--and anything can happen. Here they present stories of ethereal circu...

---

Heart's Delight

From "a writer of heartwarming, emotionally involving romances" (Library Journal), an enchanting tale of an utterly delightful woman and the lawman who never wants to let her go... Still unwed at twenty-nine, Irish immigrant Molly O'Brien has earn...

---

Timeless

in Dead of Night

When a city girl visits a Scottish castle in Ruth Ryan Langan's story, she is thrust into a timeless romance with a mighty Highland laird....

---

---

Almost Heaven

in The Other Side

Five New York Times bestselling authors cross over to a realm where suspense, desire, and love have no bounds. J.D. Robb: Lieutenant Eve Dallas has always sought justice for the dead, but now, a victim will seek her own vengeance-through Eve. M...

---

Unforgiven

in The Unquiet

The shattered soul of an angry spirit imprisoned in a Scottish manor house could be a young widow's only salvation....

---
Frequently Asked Questions (FAQ)
Ruth Ryan Langan has published 26 books.
Ruth Ryan Langan does not have a new book coming out soon. The latest book, Unforgiven, was published in October 2011.
The first book by Ruth Ryan Langan, Nevada Nights, was published in January 1985.
Yes. Ruth Ryan Langan has 1 series.