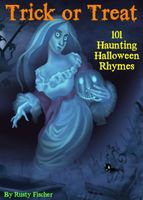 Newest Release
Bibliography:

132 Books - 2 Series

First Book:

May 2001

Latest Book:

September 2019

Rating:
Full Series List in Order
1 - Zombies Don't Cry (May-2011)
2 - Vamplayers (Dec-2011)
3 - Zombies Don't Forgive (Apr-2013)
1 - Zombie Interrupted (Feb-2012)
2 - Project Z (Apr-2012)
3 - Private EyeZ (May-2012)
4 - The Zombie Vote (Jun-2012)
5 - My Brother, My Zombie (Jul-2012)
Multi-Author Series List
144 -
Merry Mocha
(Nov-2014)
Book List in Order:
132

titles
The 25 Stories of Christmas

Celebrate Christmas all December long with this treasury of new holiday classics! A wonderful way to encourage family togetherness at the holidays, this value-packed volume contains 25 heartwarming stories that both celebrate and illuminate the holid...

---

Buddy Film

Welcome to Flicks Cinemas. Meet Alex Morgan, your assistant manager for the evening. He is a widower, 30 (okay, forty) pounds overweight, and trying desperately to find some bigger meaning in a life that hasnt quite turned out like he planned. Meet y...

---

---

---

Project Angel Tree

CHURCH NEEDS KIDS IN NEED!Grace Pastermark has been sad for a long, long time. Three months, to be exact, ever since she lost her newborn son two days after delivery. Now Grace spends her days looking for workunsuccessfullyand gobbling up every piece...

---

---

---

---

---

---

Christmas Broken

/ Romance

All Rio wants to do over Christmas break is forget about the boy who got her sent to boarding school in the first place. So what's a girl to do when he winds up working at her favorite bookstore-slash-cafe on Christmas Eve?This 5,590-word short story...

---

---

---

Spin Cycle

/ Romance

All Dana Devlin wanted was to get the stain out of her favorite shirt. Was it her fault the only other guy in the Laundromat on Christmas Eve just happens to be the most eligible bachelor in all of Snowflake, South Carolina?This 5,880-word short stor...

---

---

Make Way for Mrs. Claus

/ Romance

Lily McClain is a confirmed SantaPhobic, which is why she's so ticked off that her regular Santa, Blake, has backed out for the night. But when she steps into Santa's red suit, she becomes an inspiration for hundreds of little girls, just in time for...

---

Special Delivery

/ Romance

Chelsea Darwin is looking forward to a girls' only holiday with her assistant, Myra, when a mysterious stranger calls her catering company just before midnight, ordering the last-minute New Year's Eve special. Who Chelsea delivers to that...

---

Zombies Don't Cry

In the sleepy small town of Barracuda Bay, Maddy Swift leads the life of a fairly typical teenager, but while attending a party one night, Maddy is struck by lightning and awakens to realize she has been reanimated and turned into a zombie. While bec...

---

---

---

---

---

---

---

---

---

---

---

---

---

---

---

A Simple Christmas Gift

/ Romance

In Simple Gifts, a young couple must rediscover what the spirit of the season really means when they leave behind their fancy oceanfront condo for much humbler digs on Christmas Eve.This 5,870-word short story is 37 pages long....

---

---

---

---

Vamplayers

At the Afterlife Academy of Exceptionally Dark Arts, Lily Fielding and her classmates Alice and Cara begin their latest assignment: they're to simply spot the Vamplayer--part vampire, part player--identify the popular girl he's set his sights on, and...

---

Double Feature of the Living Dead

If you've ever settled in for a cheesy, B-movie, double creature feature with a hot bag of popcorn and a nice, cold soda, then you know what's in store in Double Feature of the Living Dead. Together – and in print – for the first time ever, t...

---

---

Zombie, Interrupted

/ Fantasy

As a zombie, Reggie is used to people asking questions. But when his ex-girlfriend Julia decides to play reporter and record his "confession," Reggie decides to turn her exposé into a true crime story—with Julia at his side!~Excerpt~"Reggie?...

---

---

---

---

---

---

---

A Town Called Snowflake

/ General Fiction

olly Swift had a choice to make that fateful Christmas Eve: break her boyfriend's heart or become a famous country music star. She chose stardom and, for awhile, all was a picture book fairy tale for Molly. She cut her debut album, made the rounds ...

---

---

---

---

The Girl Who Could Talk to Zombies

/ Fantasy

Grace Chalmers can talk to zombies. Now, if she could only make them listen!Some girls talk to their BFFs. Some girls talk to their boyfriends. Grace Chalmers talks to zombies. They even talk back! Thanks to her newfound talent, Grace is the key to s...

---

Zombies Don't Write Valentines

/ General Fiction

Once upon a time, Sarah and Brody dated. Now he's one of the living dead, and can't remember her name. Or... can he? When Brody asks Sarah to help him make a Valentine's Day card, she'll find out whether or not zombies can still remember what to do o...

---

---

---

---

---

---

---

---

---

---

---

---

---

Zombies Don't Forgive

Following Barracuda Bay's homecoming cum zombie Armageddon, fellow zombies Maddy, Dane, and Stamp have fled to Orlando where they work at a theme park, hiding in plain sight at their jobs in the Great Movie Monster Makeover show. The three spend mo...

---

Careful Hearts

/ Romance

Reggie Fontaine isn't exactly looking forward to his shift at the Suds 'N Slice Pizza Parlor. That is until he meets Tori, who owns the tattoo parlor next door. What starts as a boring shift blossoms into something unexpected and magical,...

---

---

---

Zombie Eve

/ Horror

It's Christmas Eve and the zombie known as "Scout" is doing her job: scouting out freshly dug graves for the rest of her zombie pals. But when she comes across a young kid guarding the nearest graveyard, the two strike up an unlikel...

---

Zombie Thanksgiving

/ General Fiction

It's Thanksgiving and all Cassie wants to do is sit in her dorm room eating cheesy poofs and binge watching a Horror High marathon on HitFlix. That's when Rex, one of the members of the Zombie Job Corps, shows up, wanting to clean her floor. With...

---

Zombies Don't Dance

/ General Fiction

The last thing Rex ever wanted to do was break Cara's heart. That's why he's canceling prom… at the last minute. But will Cara ever understand that, after being a zombie longer than he'd care to remember, Rex is simply t...

---

---

The Aftermath

/ General Fiction

Michelle has just escaped the zombie infestation at her high school. That's the good news. The bad news is she has to stick around and be debriefed by every department of every branch of the US government. Oh, and the local reporters, of course...

---

---

A Halloween Heart

/ General Fiction

Gemma Mathers is a tour guide at Frightening Footsteps, a Ghost Walk company in Snowflake, South Carolina. It's Halloween and when only one guest shows for the tour, Gemma can hardly believe her good fortune at being stuck with handsome, young Greg S...

---

---

Sleepless in Snowflake

/ General Fiction

It's Molly's first Christmas without her husband, which might explain why she's shown up at her mother's nursing home, desperate for a visit. When a chef busy preparing Christmas brunch overhears and invites her into his kitch...

---

A Toast for Thanksgiving

/ Contemporary Romance

It's Thanksgiving night and Haley Sylvester is working behind the bar at the Sips N Snowflake Bar & Grille when Grady Cox, the one that got away, saunters in. As the two stroll down memory lane, Haley hopes the night will find them in each othe...

---

The Vampire in the Vampire Costume

/ Horror

Grace has been watching the cute guy in the vampire costume long enough to know he isn't just role playing: dude's the real thing. So what do the only zombie and the only vampire – both sworn enemies – do in a town like Nights...

---

---

---

Reanimation Reform School

Alex Mortimer Witherspoon wants to be is a writer. But when she is thrown from a fair ride and tossed into electric cables, Alex finds herself reanimated; one of the Living Dead. She wakes up in a place called Reanimation Reform School, designed to h...

---

Elevator Music

/ General Fiction

Darby is heading home on New Year's Eve when she gets stuck in the elevator with a handsome stranger. But just when their last minute love story is heating up, the elevator starts and they part ways forever. Or will a New Year's miracle b...

---

---

---

---

Candy Hearts

/ Contemporary Romance

Cara Styles is happy to be working at Snowflakes 'N Scones on Valentine's Day. At least it keeps her busy while she's trying to get over her cheating, no-good, two-timing ex-boyfriend. It doesn't hurt that her young coworker, ...

---

Greetings from Snowflake

/ Contemporary Romance

Greetings from Snowflake, where for one true Believer, it really IS Christmas every day! Jazz Noel is a Christmas "nut." From her candy cane panties to her year-round Christmas tree, she's perpetually stuck in December. She even runs the Chris...

---

Silent Night

/ Romance

Grace Palmer's boyfriend, Grady, died suddenly one year ago. But that's okay, because tonight it's Christmas Eve, and he's promised to visit Grace at the Spin Cycle Laundromat… one way or the other.This 4,731-word short ...

---

The 12 Stories of Snowflake

Happy Holidays from Snowflake! Welcome to Snowflake, South Carolina, where it's Christmas all year long. And now, for the first time ever, enjoy these twelve delightful tales of warm, wintry romance, finally collected in a single volume. Happy Holi...

---

Monster Party

Welcome to the Monster Party, pal! Here you'll find a YA paranormal short story collection featuring all your favorite holidays: From Valentine's Day to Halloween, from St. Patrick's Day to New Year's Eve. And all your favorite monsters are h...

---

---

Upon Halloween

Upon Halloween What could be better than a simple Halloween poem? Four lines, one stanza, autumn fun, fall leaves, candy corn, trick or treat, bats and witches and ghostly things? How about… two poems? Three? Four? Fourteen? How about 31 creepy, cr...

---

Zombies Don't Read

What could be better than a short story collection containing five YA zombie tales? What could be more awesome than 10 creepy stories of the living dead? What could be cooler than 15 spooky tales of leg shuffling walkers? Would 20 stories be cooler? ...

---

---

---

---

The Third of July

/ Contemporary Romance

Milo Regis is the newest assistant manager at Buccaneer Bob's Raw Bar, so it's his job to interview the nervous applicant who's so clearly desperate for a job. But when it's also clear that Elliot Avery just isn't right ...

---

Zombies Don't Surrender

As the final volume in the series opens, Maddy, Dane, and Stamp are still together, though barely, nestled safely inside the walls of Sentinel City, a stronghold designed to keep Zerkers out--and zombies in. Maddy trains night and day, hoping to j...

---

Christmas Music

/ General Fiction

Grace Weatherly is fresh out of rehab and looking to start her life over. So when the power goes out on Christmas Eve, she can't help but lose her cool. But as the residents of her dumpy apartment complex come together in the dark, she finds ou...

---

Elf Wanted

/ Romance

All Toby Wyatt wants is a job bussing tables at Holly Days Diner. What he doesn't expect is how hard it will be to earn his "candy cane" pin at the popular year-round Christmas restaurant. But he gets a little help from an unexpecte...

---

Scary Movies

/ Romance

It's Halloween and Haley Tyson is working late at her father's video store, Rewind. When her last customer turns out to be Josh Ridgeway, high school dweeb turned college freshman hunk, she can't believe her luck. That is, until Jos...

---

---

Vampire Book of the Month Club

At the age of seventeen, Nora Falcon is already a best-selling author of vampire lit, with fans lining up around the block to read the next installment of her Better off Bled series. So it might seem like she's something special. But at the Nightshad...

---

Christmas Carols

/ General Fiction

Alex Baker has been waiting for Rafe Sanchez to ask her out ever since she started working at Holly Day's Diner, where Rafe plays guitar five nights a week. But when he finally invites her to spend Christmas Eve with her, a nursing home is not ...

---

Christmas Eve

/ General Fiction

Cole Rainey's new client, Eve Macy, wants the impossible: a completely furnished, two-bedroom apartment, on the third floor in one of Noel, North Carolina's most popular apartment complexes… before Christmas Eve. With only a few day...

---

Conversation Hearts

/ Contemporary Romance

Benjy Simmons is a freshman in college but has never had a Valentine before. His neighbor, Todd Phelps, decides to do something about that. In the process, both discover what it means to truly celebrate Valentine's Day… in very different ...

---

---

---

Meet Me At Midnight

/ Contemporary Romance

It's New Year's Eve and Tara Fields is back in Frostbite, Florida, doing a story on the town's most famous surfers. So is Reggie South, who just happens to run Hang Ten Tours, taking tourists on a "star tour" of famous s...

---

My Lucky Day

/ Romance

Brent Coffee hasn't seen his former classmate, Molly Sinclair, in nearly a decade, but all that changes when he shows up to fix her Wi-fi connection on St. Patrick's Day. After a quick fix, Brent asks Molly to join him at a local horror f...

---

The Right Vampire

/ General Fiction

When Haley Chambers mistakes a handsome stranger in a Dracula costume for her blind date, she thinks she's died and gone to matchmaker heaven! That is until her friend points out her "real" blind date – half as handsome but ju...

---

Seasons Change

/ Contemporary Romance

Tyler Pressley has just lost her marketing job… on Thanksgiving, no less. When Cliff, the owner of the failing diner next door, offers her a free dinner, she accepts… neither of them expecting how grateful they'll be for what happen...

---

---

---

A Brief Intermission

/ Romance

As the theaters at Flickers Cinemas empty and the whole town prepares to watch the 4th of July fireworks, Chance Prescott interrupts the horror flick in Theater 4 to surprise the movie's only patron with a brief intermission, including a roofto...

---

---

---

---

A Living Dead Love Story Series

/ General Fiction

Maddy Swift is just a normal high school girl—until she's struck by lighting and reanimated as a zombie. Great. Like Barracuda Bay High wasn't cold-blooded enough already! Navigating the perils of cliques and hot guys was bad enough. Now Maddy ...

---

---

---

Store Hours

/ Romance

The last thing Lea Sommers expects on Christmas Eve is to run into Gil Cramer, the "one who got away." But that's exactly what happens when she finds that Gil has come back to Noel, North Carolina, to work at the local Books 'n' Beans Caf?.Lea's stuc...

---

February the 13th

/ Contemporary Romance

Nina Miller always has a Valentine. Except this year. Before she leaves her ex-husband's house for good, Nina decides to host one final event—an anti-Valentine's party for her similarly single besties. Graphic designer Chad Meager arrives wi...

---

Reanimated Readz

/ Fantasy

Just when you thought it was safe to read again…the zombies are back! And in greater number too!In Reanimated Readz, you'll find five young adult zombie tales from Rusty Fischer's popular "Reanimated Readz" series of living dead short stori...

---

Mister Perfect

/ Romance

Dollar Jungle isn't Mia Crawford's idea of the perfect job. Then again, the cute older guy who comes in every night to hunt around for just the right Halloween decorations makes things a little easier. When Mia realizes her "mystery...

---

---

Throwing Shade

/ Romance

The last thing Cara Halpern expected to do at the office Christmas party was fall in love. But that's exactly what happens when she goes looking for a hiding space after her boyfriend humiliates her and finds a lovelorn admirer in the mood to c...

---

Christmas in Snowflake

/ Contemporary Romance

Molly Swift had a choice to make that fateful Christmas Eve: break her boyfriend's heart or become a famous country music star. She chose stardom and, for awhile, all was a picture book fairy tale for Molly. She cut her debut album, made the rounds...

---

Trick or Treat

/ General Fiction

A Beautiful Mess is one of the most popular DIY style blogs in the world, with more than 1 million readers. Co-creators (and sisters) Emma Chapman and Elsie Larson share their unique and approachable diet with fans and healthy eaters in this, their f...

---

The Vampire Who Lost His Cape

/ General Fiction

Chester is busily stitching a vampire cape for his Halloween costume when a real vampire arrives. The vampire has lost his cape, and a vampire without a cape is hardly a vampire at all! He'd like to borrow Chester's cape, but Chester needs it for tri...

---

---

---

---

---

---

---
Frequently Asked Questions (FAQ)
Rusty Fischer has published 132 books.
Rusty Fischer does not have a new book coming out soon. The latest book, The Vampire Who Lost His Cape, was published in September 2019.
The first book by Rusty Fischer, The 25 Stories of Christmas, was published in May 2001.
Yes. Rusty Fischer has 2 series.