Description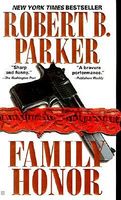 The author of the bestselling Spenser novels introduces a heroine unlike any other-private eye Sunny Randall. She's street-smart, sexy, and suddenly thrown into a Boston mob war where high-stakes politics and low-down killers conspire to make Sunny's first case her last.

Let's get this settled right away: Sunny Randall is nothing like Spenser. True, she's a private eye in Boston with good connections to the cops, and she also knows a lot of bad guys. And yes, she happens to have a trusty sidekick named Spike, and a close friend who

could easily be related to Susan Silverman, (Spenser's long-term companion). Oh, did I mention the cute dog? Aside from that, though, there's absolutely no similarity between this new series from Robert B. Parker and his long-running Spenser books. Just because the case Sunny is working on -- finding a missing 15-year-old girl who has run away from her very rich parents -- sounds similar to the Spenser favorite Thin Air doesn't mean Parker is repeating himself here. Think of it as more like a homage, the kind of thing the author took on when he agreed to finish Raymond Chandler's Poodle Springs. Only in this case it's a homage to himself -- but what the hell.
Full Synopsis
About the Book
Published:

Sep-1999

(Hardcover)

Nov-2000

(Paperback)

Formats:

Print / eBook / Audio

Pages:

320

Age Level:

18 & up

Purchase: