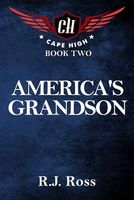 Newest Release
Bibliography:

12 Books - 1 Series

First Book:

July 2010

Latest Book:

November 2015

Rating:
Full Series List in Order
1 - Croc Skins (Jul-2012)
2 - Coyote Falls (Sep-2012)
Book List in Order:
12

titles
Sundance's Syn

/ Romance

Amazon warrior Sundance Fighter has only been beaten once. Her reputation as a hero was ruined by super villain Syn right before he retired. Now, three years later, she's going after him. Not because he's a wanted man, though. She just wants him. Unf...

---

Destiny Thread

/ Fantasy

Death is the only way to cut a destiny thread for a psychic, and Nellie Malinski, environmentalist and school teacher, is really starting to contemplate it. Her destined's death, that is. He's everything she doesn't want in a life partner-a large, me...

---

Missing: Witch

/ Fantasy

The Wicked Witch of the enchanted forest has gone missing, and it's up to internet addicted Rapunzel and man-hating Sleeping Beauty to get her back! Add one prince charming-turned-dragon bait, a few cameos from other famous fairy tales, and a lot of ...

---

Courting the Beast

/ Romance

Book 1 of the Winstead Files. In "Courting the Beast" a tomboy princess is turned into a beast and the best looking guy in town has to save her! If he can beat her in basketball, that is. With fairytale curses going out of control and a know-it-all f...

---

Snow White, Snow White

/ General Fiction

Books 2 and 3 of The Winstead Files. In "Snow" a set of twins get stuck with an injured bear, but why is the bear so obsessed with its weight? And in "Lucky #7" everything's gone wrong! The dwarves have formed a mafia and the prince is a little too.....

---

The Sleeper

/ Fantasy

In "The Sleeper" a prince wakes a victim cursed to sleep a hundred years. Unfortunately for him, the sleeper just happens to be another guy! Prince Jake is known for his khaki clothing and habit of filming his expeditions into the world of fairy tale...

---

---

Belle and the Dragon's Curse

/ Fantasy

The good ship "Golden Profit" is definitely a pirate ship in disguise! Unfortunately, Belle must trust them to take her through the treacherous Dragon Seas to a dangerous island, where dragons rule. Faced with monsters, pirates and mages at every tur...

---

Croc Skins

/ Science Fiction Romance

After three months of playing the virtual reality game, Arcadia, Shelly (AKA SugarBaby) has decided to enhance her avatar. But she gets more than she can handle when she walks into the local skinshop, Croc Skins. Croc is big, blunt, and hard to handl...

---

---

Coyote Falls

/ Science Fiction Romance

Her apartment's ceiling is leaking - and she lives on the second floor. When Mattie (AKA Honeychile) is asked by her parents to house sit for the summer, it sounds perfect (and dry.) What her parents failed to tell her was that she'd be taking care o...

---

Super Villain Dad

You're probably wondering why we're trying to be so quiet. Well there's a reason. A really BIG reason. He's standing over there--no--to your right--no, THROUGH the fence. Yes, on the other side of the big, nasty looking security fence that is literal...

---

America's Grandson

"I'm a tank," I admit, shrugging my shoulders. "No super cool powers like gravity or anything, just good old fashioned power. Or at least I will be," I add. "Dad says I'm still pretty breakable." "Maybe for him," Max drawls. "You're probably the one ...

---
Frequently Asked Questions (FAQ)
R.J. Ross has published 12 books.
R.J. Ross does not have a new book coming out soon. The latest book, America's Grandson, was published in November 2015.
The first book by R.J. Ross, Sundance's Syn, was published in July 2010.
Yes. R.J. Ross has 1 series.