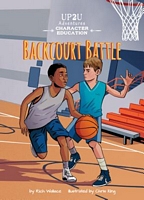 Newest Release
Bibliography:

30 Books - 2 Series

First Book:

July 1997

Latest Book:

September 2017

Rating:
Full Series List in Order
1 - The Ball Hogs (Jun-2010)
2 - Fake Out (Aug-2010)
3 - Benched (Oct-2010)
4 - Game-day Jitters (Jan-2011)
1 - The Roar of the Crowd (Mar-2004)
2 - Technical Foul (Oct-2004)
3 - Fast Company (Feb-2005)
4 - Double Fake ()
5 - Emergency Quarterback ()
6 - Southpaw ()
7 - Dunk Under Pressure ()
8 - Takedown ()
9 - Curveball (Feb-2008)
10 - Second-String Center (Nov-2008)
Book List in Order:
30

titles
Wrestling Sturbridge

As the second-best 135-pound wrestler in his high school, Ben watches as a friend's future becomes brighter and his turns dim. Eager to leave his home town of Sturbridge, Pennsylvania--and to avoid a dismal future working in a cinder block factory--B...

---

Riding Time

Stuck in a small town where no one ever leaves and relegated by his wrestling coach to sit on the bench while his best friend becomes state champion, Ben decides he can't let his last high school wrestling season slip by without challenging his frien...

---

---

The Roar of the Crowd

WILL COACH LET MANNY PLAY? Manny's starting his first football season with the Hudson City Hornets, and he's determined to get in the game. Problem is, Manny's not a big guy, and when he tries to tackle the offense, he's the one who ends u...

---

Technical Foul

Will Jared's temper keep him out of the game? Jared knows he's the best basketball player in school. He's got the talent, the touch, and the shots. With him at center, the Hudson City Hornets finally have a chance at making the playoffs. But Ja...

---

Fast Company

Manny Ramos is the fastest guy on the Hudson City Youth football team—maybe even the fastest in his school—so the new track club seems perfect for him. His light weight could finally be a benefit instead of a curse! When he first sees the enormou...

---

Losing Is Not an Option

Ron is watcher, it seems. He watches his pick-up basketball team–five guys trying to fit together on the court. He watches Dawn on the dance floor, and that tiny star tattoo on her shoulder. He watches Darby run, her short legs all sweat and muscle...

---

Shots on Goal

It's soccer season, and sophomore Bones Austin and his team are struggling to make it to the district play-offs--against all odds. To make matters worse, Bones has a crush on the girlfriend of his best friend, Joey. Bones and Joey are forced to learn...

---

One Good Punch

ASK ANYBODY AROUND East Scranton High School: Michael Kerrigan is almost too good to be true. Dedicated athlete, captain of the track team, editorial assistant (obituary writer) at the Scranton Observer, he's never been in trouble, and he doesn't ass...

---

---

Curveball

Eddie stepped off first base, tensed and ready to sprint all the way home if he needed to. Here came the pitch, here came the smack as Spencer connected, the Oooh from the spectators, and the roar from the Hudson City dugout as the ball shot deep in...

---

---

Second-String Center

Slimmed down and in great shape, Dunk is thrilled to make the school basketball team as a secondstring center. Jared, the starting center, is the best player on the team. But when Jared begins missing practice as well as the shots he used to make, Du...

---

Perpetual Check

Randy is a chubby ninth grader with a Cub Scout hair cut who guesses M&M colors with his eyes closed and makes up words. He's also a chess whiz who has defeated his older brother Zeke in nine of their last ten matches. Zeke is a high school senior, a...

---

Sports Camp

Riley feels like the smallest kid at sports camp. In fact, he is. He just turned eleven in April, but most kids here are twelve, and a few are even thirteen--and gigantic. It's hard enough for a shrimp like Riley to fit in. He just doesn't want to be...

---

The Ball Hogs

Nine-year-old Ben is brand-new to soccer, but he's a good athlete and knows he'll do well on the Bobcats, his team in the local Kickers soccer league. If he can only work around his obnoxious teammate Mark, the ball hog, Ben is sure he'll score his f...

---

Fake Out

The Kickers soccer league is heating up, and Ben's team, the Bobcats, has two losses, one win, and one tie. Ben knows he can pull his team out of its slump and right into the league play-offs with his new move: the fake-out. He practices the tricky f...

---

Benched

It's a race to the Kickers soccer league play-offs. Nine-year-old Ben is pretty sure that if the Bobcats win two of their last three games, they'll earn a tournament spot. But in their game against the Tigers, the Bobcats are a mess on the field ...

---

Game-day Jitters

Filled with on-the-field soccer scenes, black-and-white artwork, and sports statistics throughout, this short novel--ideal for newly independent readers, athletes, and all sports fans--follows nine-year-old Ben and his fourth-grade team, the Bobcats,...

---

Waking Up at Woodstock

It's the summer of 1969. We've just landed on the moon, the Vietnam War is heating up, the Mets are beginning their famous World Series run, and Woodstock is rocking upstate New York. Down in New Jersey, twelve-year-old Brody is mostly concerned with...

---

---

War and Watermelon

A story of the summer of '69 for fans of John Ritter and Mike Lupica Brody Winslow is having a summer typical for most twelve-year-old boys--hanging out at the pool, listening to music, and hitting on girls. But the year is 1969: we've just landed...

---

Wicked Cruel

Everyone's heard an urban legend before. They're stories that get passed from kid to kid, and nobody can quite remember where the story originated. Sometimes the story changes. Sometimes details are added, or dropped. But one thing's for sure: nobody...

---

Double-Crossed at Cactus Flats

Up2U Adventures--where the ending is Up2U! When young Archer and his partner, Bull, find a silver vein in the Arizona desert, they think they will be rich. But Cactus Flats is a town with many dangers and men waiting to double-cross them. Will Bull a...

---

Room of Woe

Max is not keen about staying at his Aunt Ida's house, and when the ghost of her long-dead son, Woe, begins to torment him he decides to take his chances on the nearby mountain, even though it is night--but the ghost pursues him, and how the adventur...

---

Backcourt Battle

After the starting point guard sprains his ankle during a game, Jamere steps in until his rival teammate returns for the championship. But with both boys expecting to start in the final game, their coach asks Jamere to decide who will play. The endin...

---

Double Fake

Get ready for some amazing soccer action in Winning Season 4! It's summer in Hudson City. And for Calvin Tait and Zero Rollison, it's time to give soccer a shot. The YMCA soccer league looks like an easy way to get their feet wet and learn some t...

---

Dunk Under Pressure

the guys call him Dunk, but Cornell Duncan couldn't dunk from a six-foot ladder. He's flat-footed and slow and can jump only about two inches off the ground. but put him at the foul line and he's a star—a free-throw magician. that's the mai...

---

Emergency Quarterback

Jason Fiorelli is having a great year as wingback on the Hudson City Hornets. Twenty-seven receptions, six touchdowns, and fifty points for the season! Now with only three games left, the league title is within reach, until -- disaster -- the Hornets...

---

Playing Without the Ball

Some might think Jay was cheated. By his mother, who walked out when he was 9. By his dad, who took a job a couple thousand miles away and let him stay above a bar in a one-room apartment. By the basketball coach, who saw his talent but chose youth o...

---

Southpaw

Jimmy Fleming throws left, bats right and left, and is hoping to become Hudson City's newest pitcher. But while he makes the team, things don't go just the way he'd hoped. His teammates aren't too welcoming, and his time on the mound is less ...

---

---

Takedown

Strong, wiry, and lightweight, Donald seems to have the perfect combination of physical attributes for wrestling. And after seeing a high school wrestling match, he?s excited to join Hudson City?s middle-school team. The workouts are grueling, and he...

---
Frequently Asked Questions (FAQ)
Rich Wallace has published 30 books.
Rich Wallace does not have a new book coming out soon. The latest book, Backcourt Battle, was published in September 2017.
The first book by Rich Wallace, Wrestling Sturbridge, was published in July 1997.
Yes. Rich Wallace has 2 series.