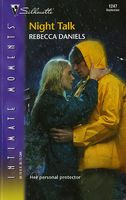 Newest Release
Bibliography:

14 Books - 2 Series

First Book:

February 1991

Latest Book:

September 2003

Rating:
Full Series List in Order
1 - Tears of the Shaman (Jul-1995)
2 - Father Figure (Feb-1996)
1 - L.A. Heat (Feb-1991)
2 - L.A. Midnight (May-1992)
Multi-Author Series List
Husband Wanted - Fast
(Jan-2000)
7 -
Way of the Wolf
(Feb-1995)
Book List in Order:
14

titles
L.A. Heat

NOWHERE TO RUN Police detective Steven Savage knew the woman was trouble the moment he spotted her on the L.A.-bound plane. Beautiful, elegant California heiress Amanda Wainwright was a real class act--an irresistible risk a tough cop from the str...

---

L.A. Midnight

PRIDE AND PREJUDICE Suddenly Miles Richards had to be a father to an orphaned deaf boy he couldn't communicate with. And the only woman he wanted help from was the same woman who'd walked out on him without an explanation. Teresa Sandoval worked w...

---

Fog City

STRANGERS Caitlin MacKenzie was an ordinary bookstore clerk from the suburbs--the kind of woman who didn't get taken prisoner in her hotel room by a tough, good-looking stranger. Yet here she was, scared to death as Michael Seger spoke of nasty th...

---

Loving the Enemy

He was the last man on earth she wanted to be alone with.... When the wall of snow roared down the mountain, Kyle Gentry instinctively dived for cover, pulling another skier with him. Trapped with her, he realized the woman he'd saved wasn't a str...

---

Lawyers, Guns and Money

LICENSE TO DECEIVE... Once, Ash Cain had played knight in shining armor to a poor little rich girl named Jillian Hughes. He'd never forgotten his damsel in distress--or the soul-shattering effect of the single kiss they'd shared. Yet their paths h...

---

Way of the Wolf

The Verdict As a girl, Raeanne Martin had always defended Rafe "Wolf Boy" Rawlings's mysterious history -- and loved his wild looks. Now, as a woman and public defender, Raeanne was up against Rafe in a murder case -- and still filled with desire ...

---

Tears of the Shaman

A DESPERATE SEARCH... Mallory Wakefield was desperate to find her missing twin, lost in the merciless desert. Navajo medicine man Benjamin Graywolf appeared to be her last hope. But his heart seemed unjustly hardened against her. LEADS TO DESIR...

---

Father Figure

DYLAN AND MARISSA HAD A PAST .... Small-town sheriff Dylan James had encountered his share of teenage troublemakers. But Josh Wakefield was different. He was Marissa Wakefield's nephew. Marissa--the woman who had broken Dylan's heart so long ago. ...

---

Family Addition

ROOM FOR ONE MORE A fiercely protective single dad, cowboy Colt Wyatt was shaken to his spurs. His pint-size daughter suddenly had another hero to worship! It was Casey the carpenter this, Casey the carpenter that. Just what was with this carpent...

---

---

Mind Over Marriage

A HUSBAND REMEMBERED When Kelsey Reed awoke from her coma, the only person she wanted was her husband, Cooper. So why was everyone looking at her as if she'd lost her mind? And why was Cooper acting like a stranger? Once she was out of the hospita...

---

Yuletide Bride

HE HAD GIVEN HER LIFE'S MOST PRECIOUS GIFT... Marcy Fitzgerald could never forgive Cruz Martinez for leaving her. Yet she couldn't forget him, either. The proof of their long-ago love lived on in her cherished child. A child who was now in danger....

---

Husband Wanted - Fast

SHE WAS PREGNANT. Dr. Olivia Martin was in quite a bind -- she needed a husband... fast! After selflessly offering to be a surrogate mother, an accident left her pregnant and alone -- just before her straitlaced family's reunion! BUT NOT WITH HER...

---

Rain Dance

A WOMAN WITH NO NAME... Sheriff Joe Mountain found the mysterious young woman wandering in a thunderstorm, unable to remember even her name. So Joe called her "Rain" and set out to find out who she was. Although his Native American soul was stirre...

---

Night Talk

SOMEONE WAS WATCHING Kristin Carey was nationally known for her on-air relationship advice, but when it came to Jake Hayes, "Dear Jane" was in over her head. Hiding out on a remote mountaintop with the gorgeous ex-cop was almost as dangerous as the ...

---
Frequently Asked Questions (FAQ)
Rebecca Daniels has published 14 books.
Rebecca Daniels does not have a new book coming out soon. The latest book, Night Talk, was published in September 2003.
The first book by Rebecca Daniels, L.A. Heat, was published in February 1991.
Yes. Rebecca Daniels has 2 series.