Description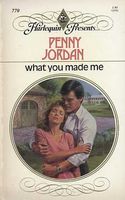 She hadn't seen him in almost eleven years

They'd been very much in love. But if Philippa had married Scott, he would have lost his birthright. So Philippa had told him she was in love with someone else.

Seeing her again unleashed Scott's bitterness. He was pleased to think that Geoff had refused to marry Philippa despite her pregnant condition. Scott was so blind to Philippa's love, he couldn't see even the obvious--that young Simon was very much his father's son.

"After you left, Philippa, my grandfather withheld from he what he thought I wanted most. Take care," Scott warned, "that I never discover what you treasure."

MILLS AND BOON BACK COVER:
'God, you're hard.....'

'I'm what you made me', he corrected cruelly. 'Do you feel proud of your handiwork? Does it give you a thrill to know that you and you alone are responsible for what I am today?'

A week ago Philippa's life had been relatively uncomplicated. But that was before she had been forced to return to the village she had left eleven years ago; young frightened and pregnant. But now she was older; and had looked after herself and her son for ten years. She had thought nothing could ever frighten her again - until she met Scott Garston, who wanted revenge for what he thought she had done to him eleven years ago.....


Full Synopsis