Description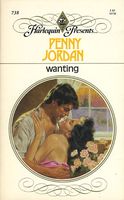 This man was more than a match for her

As a model, Heather was accustomed to berg regarded as a sex object, but she made certain no one in her private life treated her that way

She kept men at a distance, using her body as a lure and a torment, then rejecting her would-be lovers as retribution for the traumatic experiences of her past.

All that changed when she met Race Williams. He was a master at the game of enticement and denial, and for the first time Heather knew what it was to burn for something she couldn't have...
---------------------------------
Mlls & Boon UK Version

Heather might be a beautiful and successful model, but she was very far from being the hardboiled, amoral, mercenary type a model is all too often assumed to be; in fact she was a sensitive, vulnerable girl - and it was her disillusionment with the false image of her profession that had made her, in self-defence, build a wall of reserve around herself, to protect herself from being hurt by men. So what right had Race Williams to treat her like that? And what on earth was she doing falling in love with him?


Full Synopsis
About the Book
Published:

Nov-1984

Formats:

Print / eBook

Pages:

192

Purchase: