Description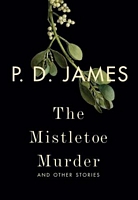 Four previously uncollected stories from one of the great mystery writers of our time--swift, cunning murder mysteries (two of which feature the young Adam Dalgliesh) that together, to borrow the author's own word, add up to a delightful "entertainment."

The newly appointed Sgt. Dalgliesh is drawn into a case that is "pure Agatha Christie." . . . A "pedantic, respectable, censorious" clerk's secret taste for pornography is only the first reason he finds for not coming forward as a witness to a murder . . . A best-selling crime novelist

describes the crime she herself was involved in fifty years earlier . . . Dalgliesh's godfather implores him to reinvestigate a notorious murder that might ease the godfather's mind about an inheritance, but which will reveal a truth that even the supremely upstanding Adam Dalgliesh will keep to himself. Each of these stories is as playful as it is ingeniously plotted, the author's sly humor as evident as her hallmark narrative elegance and shrewd understanding of some of the most complex--not to say the most damning--aspects of human nature. A treat for P. D. James's legions of fans and anyone who enjoys the pleasures of a masterfully wrought whodunit.
Full Synopsis
About the Book
Published:

Oct-2016

(Hardcover)

Nov-2017

(Paperback)

Formats:

Print / eBook / Audio

Pages:

192

Purchase:
What Readers Are Saying
What do you think? Write your own comment on this book!
Write a Comment
Just when I thought there were to be no more P.D. James books to read since she passed a couple of years ago, along comes this little gem chock full of four Christmas-themed mysteries. Discovering that this book was recently published was like finding a lost Christmas present that got missed in the Christmas rush. I love Phillys Dorothy James and I love her books! Her mysteries are so complex, and her books are peopled with totally wonderful characters (the good guys and the bad guys), and her sly wit and her ability to set her time and place so well make them the best in the genre. These little gems are so "Her" - all little masterpieces in their own right. They are short, but complex, and her gift as a writer is her ability to lead us all down the garden path, and we think everything is just normal and innocent, and then she lets us have it, and we feel kind of duped, shocked and mostly totally entertained. She is a master of suspense, and I love knowing that there are other unpublished stories out there from the Queen of Crime. Bring it on.