Description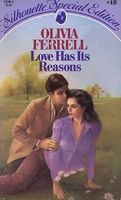 LOVE HAS ITS REASONS.

Cara Lang had been slumbering, waiting, though she hadn't known it until Sloan Montgomery stormed into her life and awakened the woman inside her.

She shivered beneath his touch, gloried in his dazzling gaze and reveled in her dreams of the future they would share. He was the half of her that had always been missing, and she gave him her heart in a love without end.