Description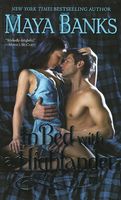 Bestselling author Maya Banks's beguiling new trilogy features three unforgettable brothers risking everything to save their clan and their legacy -- and to surrender their hearts to love.

Ewan McCabe, the eldest, is a warrior determined to vanquish his enemy. Now, with the time ripe for battle, his men are ready and Ewan is poised to take back what is his -- until a blue-eyed, raven-haired temptress is thrust upon him. Mairin may be the salvation of Ewan's clan, but for a man who dreams only of revenge, matters of the heart are strange territory to conquer.

Though the illegitimate daughter of the king, Mairin possesses prized property that has made her a pawn -- and wary of love. Her worst fears are realized when she is rescued from peril, only to be forced into marriage by her charismatic and commanding savior, Ewan McCabe. But her attraction to her ruggedly powerful new husband finds her craving his surprisingly tender touch; her body comes alive under his sensual mastery. And as war draws near, Mairin's strength, spirit, and passion challenge Ewan to conquer his demons -- and embrace a love that means more than revenge and land.
Full Synopsis
About the Book
Published:

Sep-2011

Formats:

Print / eBook / Audio

Pages:

368

Purchase:
What Readers Are Saying
What do you think? Write your own comment on this book!
Write a Comment

Grumpy Laird meets young feisty virgin lass with great dowery that will save the keep. but on the simple path there are a lot of stones- There is hate, violence, sword fighting, love, lust, anger, betrayals, revenge, and triumph.
Sure there is that, but there is so much more.
Duncan the biggest man meat turd bucket to walk the Scottish lands. He takes the award for most hated character I've read this year. Grrrr... he is such a slippery nasty thing.
The story is about three brothers trying to bounce back from a terrible blow from Mr. Turdbucket (see above) unleashed on their families keep years before. The eldest Ewan must deal with this virginal rocket of a woman after his son promises her safety. Unfortunately, there are many men who want her dowery which brings a rushed resolution to the problem. Ewan and Evil Turdbucket both race to bed her and plant their seed. She understand this reality and deals with it the best she can. Greed brings dangerous times to them all.
I really enjoyed this story. I liked the characters, I wanted good things for them. My only problem was the sex/kissing scenes. They took over too much of the story for me. "lusty" a word used and then used again and....well you get the picture. I know it's a romance, what did I expect. I don't know but I felt like it was presented almost like a lesson. 'School time kiddos" " you hold it like this and..." I liked the out of bed time better, the adventure was more interesting.
I am on the fence about continuing with the series. I have heard it is tear jerker. I know if is of Alaric and his quest, which makes it tougher because I really loved his character. So we'll see.