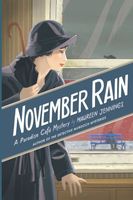 Newest Release
Bibliography:

19 Books - 4 Series

First Book:

October 1997

Latest Book:

November 2022

Rating:
About the Author
Maureen Jennings, now a Canadian Citizen, was born on Eastfield Road in Birmingham, England and spent her formative years there until she emigrated to Canada at the age of seventeen with her mother.

This has meant that she still feels a deep connection with her homeland. It has also no doubt been a strong influence in her love for, and her writing about, the Victorian period. She attended the University of Windsor where she attained a BA in philosophy and psychology.

A couple of years trying to decide what she really wanted to do with her life resulted in her returning to university, the University of Toronto, this time where she earned an MA in English literature.For the next eight years, she taught English at Ryerson Polytechnical Institute at a time when the English department seemed to be chock full of writers. Eric Wright, went on to write the highly successful Charlie Salter mystery series, Graeme Gibson, Peter Such, and others were writing both novels and poetry. An exciting time in so many ways but after eight years, another change of direction and in 1972, Maureen left Ryerson to become a psychotherapist, which was a long time interest. She has continued in private practice since then, although nowadays she mostly conducts creative expression groups and writes. Always passionate about dogs, she is happy to own a border collie named Jeremy-Brett and a mixed breed named Varley.
Full Series List in Order
1 - Does Your Mother Know? (Sep-2006)
2 - The K Handshape (Jan-2008)
1 - Except the Dying (Oct-1997)
2 - Under the Dragon's Tail (Oct-1998)
3 - Poor Tom Is Cold (Feb-2001)
4 - Let Loose the Dogs (Jan-2003)
5 - Night's Child (May-2005)
6 - Vices of My Blood (Apr-2006)
7 - A Journeyman to Grief (May-2007)
7.5 - Shipwreck (Jul-2010)
8 - Let Darkness Bury the Dead (Nov-2017)
1 - Season of Darkness (Aug-2011)
2 - Beware This Boy (Nov-2012)
3 - No Known Grave (Oct-2014)
4 - Dead Ground in Between (Aug-2016)
1 - Heat Wave (Jan-2019)
2 - November Rain (Nov-2020)
3 - Cold Snap (Nov-2022)
Book List in Order:
19

titles
Except the Dying

As the unforgiving cold swirled around the girl's unclad body, the bleakness of malice reflected in her lifeless eyes. There was something more sinister than the frigid Canadian weather responsible for Theresa Laporte's death, and Detective Willia...

---

Under the Dragon's Tail

WHERE SECRETS DWELL Women rich and poor came to her, desperate and in dire need of discretion. And though Dolly Merishaw tended to their unfortunate circumstances in secret, her contempt and greed bred nothing but fear and loathing in the hearts o...

---

The Weeping Time

in Crime Through Time III

ANDREW GREELEY introduces a monk of the Middle Ages who investigates corruption in the Vatican to crack "The Case of the Murdered Pope"... Sir John Fielding, a blind eighteenth-century magistrate, confronts crime at a stuffy dinner party in BRUCE ALE...

---

Poor Tom Is Cold

In this third adventure featuring the lovable detective William Murdoch, he becomes involved with the apparent suicide of Constable Oliver Wicken â€" a man who was the sole support of his mother and invalid sister. But further investigation by Detect...

---

Let Loose the Dogs

In each succeeding historical mystery set in late 19th century Toronto, Jennings has not only placed her readers vividly in the period and the place, but has also given them an involving story. Her books have the added spice of a blend of conventiona...

---

Night's Child

After thirteen-year-old Agnes Fisher faints at school, her teacher, the young and still idealistic Amy Slade, is shocked to discover in the girl's desk two stereoscopic photographs. One is of a dead baby in its cradle, and on the back Agnes has scr...

---

Vices of My Blood

In his forties, the Reverend Charles Howard still cut an impressive figure. A married Presbyterian minister in Toronto's east end, Howard was popular with the congregation that elected him, especially with the ladies, and most particularly with Miss ...

---

Does Your Mother Know?

Christine Morris has been sent to Edinburgh to attend a conference on the latest in police methodology.There she is tracked down by the Northern Constabulary, Stornoway, Outer Hebrides, who inform her that her estranged mother has been involved in a ...

---

A Journeyman to Grief

The abduction of a young woman in 1858 ends in Toronto thirty-eight years later -- in murder. In 1858, a young woman on her honeymoon is forcibly abducted and taken across the border from Canada and sold into slavery. Thirty-eight years later, Det...

---

---

The K Handshape

Christine Morris is awakened early on a chill November morning by a phone call from one of her colleagues, forensic psychiatrist Dr. Leo Forgach. His daughter, Deirdre, is missing. Despite the fact that she and the doctor have never seen eye to ey...

---

Shipwreck

A retired police detective tells a story from his family's history. This is his story... On a cold winter morning in 1873, a crowd gathers on the shore of a Nova Scotia fishing village. A stormy sea has thrown a ship onto the rocks. The villagers wor...

---

Season of Darkness

The creator of the acclaimed Detective Murdoch Mysteries turns her exceptional storytelling skills to a murder mystery set in rural Shropshire, England, in the darkest days of the Second World War. Following the disastrous retreat of the British a...

---

Beware This Boy

November, 1940. Tom Tyler, Detective Inspector of the small Shropshire town of Whitchurch, is a troubled man. The preceding summer had been a dark one for Britain, and even darker for Tom's own family and personal life. So he jumps at the opportu...

---

No Known Grave

From the well-known author whose books inspired the wildly popular Murdoch Mysteries TV series, comes the third WWII-era DI Tom Tyler mystery; for fans of Foyle's War, wartime dramas, and, of course, Maureen Jennings!
     It's summer, 1942,...

---

Dead Ground in Between

From Canada's premier author of historical mysteries, Maureen Jennings, comes the haunting fourth novel in the DI Tom Tyler series. Set in Britain during the darkest days of World War II, this is a must-read for fans of Foyle's War, Jacqueline Winsp...

---

Let Darkness Bury the Dead

Canada's premier author of historical mystery fiction returns with a brand new and highly anticipated Murdoch Mystery, with an older and wiser Detective Murdoch.

It is November 1917. The Great War is grinding on, chewing up young men by the th...

---

Heat Wave

It's July 1936, and Charlotte Frayne is the junior associate in a two-person private investigation firm, owned by T. Gilmore. An anti-Semitic hate letter is delivered to Gilmore, and a veteran of the First World War requests the firm's assistance in ...

---

November Rain

Charlotte Frayne's boss, Mr. Gilmore, travels to Europe in the fall of 1936 on a mysterious trip, leaving her in charge of the detective agency. The redoubtable Mrs. Jessop hires Charlotte to̷...

---

---

---
Frequently Asked Questions (FAQ)
Maureen Jennings has published 19 books.
Maureen Jennings does not have a new book coming out soon. The latest book, Cold Snap, was published in November 2022.
The first book by Maureen Jennings, Except the Dying, was published in October 1997.
Yes. Maureen Jennings has 4 series.