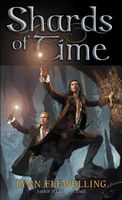 Newest Release
Bibliography:

11 Books - 2 Series

First Book:

August 1996

Latest Book:

April 2014

Rating:
Full Series List in Order
1 - Luck in the Shadows (Aug-1996)
2 - Stalking Darkness (Feb-1997)
3 - Traitor's Moon (Jul-1999)
4 - Shadows Return (Jun-2008)
5 - The White Road (May-2010)
6 - Casket of Souls (Jun-2012)
7 - Shards of Time (Apr-2014)
1 - The Bone Doll's Twin (Oct-2001)
2 - Hidden Warrior (Jul-2003)
3 - The Oracle's Queen (Jul-2006)
Book List in Order:
11

titles
Luck in the Shadows

When young Alec of Kerry is taken prisoner for a crime he didn't commit, he is certain that his life is at an end. But the one thing he never expected was his cellmate. Spy, rogue, thief, and noble, Seregil of Rhiminee is many things -- none of them ...

---

Stalking Darkness

A master of subterfuge, a rogue thief with a noble air, Seregil of Rhiminee has taught his young protege, Alec of Kerry, his greatest secrets of the trade. Together they've made their way with thieving jobs large and small, winning friends and enemie...

---

Traitor's Moon

Master spies Seregil and Alec are no strangers to peril. Their assignments, nightrunning for wizards and nobles, have led them into many deadly situations. But sometimes the greatest danger can lurk beneath a TRAITOR'S MOON Wounded heroes of a cat...

---

The Bone Doll's Twin

DARK MAGIC, HIDDEN DDESTINY For three centuries a divine prophecy and a line of warrior queens protected Skala. But the people grew complacent and Erius, a usurper king, claimed his young half sister's throne. Now plague and drought stalk the land...

---

Hidden Warrior

A TRICK OF MAGIC, A TWIST OF FATE. As the orphaned nephew of the king, trusted companion to his cousin, and second heir to the throne of Skala, Prince Tobin's future is clear. But not as clear as the spring in which a hill witch shows him his true f...

---

The Oracle's Queen

SHE GREW UP CLAD INA BOY'S FLESH, BUT NOW THE TIME HAS COME FOR HER TO TAKE UP HER RIGHTFUL POSITION AS...THE ORACLE'S QUEEN Under the rule of a usurper king, the realm of Skala has suffered famine, plague, and invasion. But now the time for the rig...

---

Shadows Return

With their most treacherous mission yet behind them, heroes Seregil and Alec resume their double life as dissolute nobles and master spies. But in a world of rivals and charmers, fate has a different plan.... After their victory in Aurënen, Alec a...

---

The White Road

Dissolute nobles, master spies, and the unlikeliest of heroes, Alec and Seregil have survived exile, treachery, and black magic. But the road that lies ahead is the most hazardous they've ever traveled. For with enemies on all sides, they must walk a...

---

---

---

Casket of Souls

The Nightrunners are back in this gripping novel full of Lynn Flewelling's trademark action, intrigue, and richly imagined characters. More than the dissolute noblemen they appear to be, Alec and Seregil are skillful spies, dedicated to serving...

---

Shards of Time

Acclaimed author Lynn Flewelling brings her beloved Nightrunners series to a close -- at least for now -- with a thrilling novel of murder, mystery, and magic. The governor of the sacred island of Korous and his mistress have been killed inside a...

---
Frequently Asked Questions (FAQ)
Lynn Flewelling has published 11 books.
Lynn Flewelling does not have a new book coming out soon. The latest book, Shards of Time, was published in April 2014.
The first book by Lynn Flewelling, Luck in the Shadows, was published in August 1996.
Yes. Lynn Flewelling has 2 series.