Description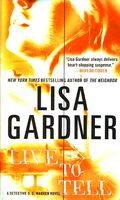 On a warm summer night, in a working-class neighborhood, four family members are brutally murdered. The father -- and possible suspect -- clings to life in the ICU. Murder-suicide? Or something worse? Veteran police detective D. D. Warren is certain of only one thing: There's more to this case than meets the eye.

Danielle Burton is not only a dedicated nurse at a locked-down pediatric psych ward but the haunted survivor of a shattered life. Meanwhile, devoted mother Victoria Oliver will do anything to ensure that her troubled son has some semblance of a childhood.

The lives of these three women connect in unexpected ways, as sins from the past emerge and stunning secrets reveal just how tightly blood ties can bind.

Full Synopsis
About the Book
Published:

Jul-2010

(Hardcover)

Dec-2010

(Paperback)

Formats:

Print / eBook / Audio

Pages:

464

Purchase:
What Readers Are Saying
What do you think? Write your own comment on this book!
Write a Comment

This book grabbed me from the first page. I don't usually care for plots dealing with children, but Gardner did a great job of drawing me in and making me care about the characters.

The main detective has appeared in previous books, but this is really her first time as a main character.
In a Boston neighborhood that has had its share of violence, four members of a family are killed in what appears to be murder-suicide. The father clings to life in the ICU.

The next day, in a different part of Boston, another family is murdered. There doesn't seem to be anything connecting the two families.

Lisa Gardner's excellent crime detective, D.D. Warren of the Boston homicide division is brought in. She views the crimes and feels that there's just too much to be coincidental.

Danielle Burton is a psych nurse at a Boston psych ward for children. She is the lone survivor of when her own father murdered her family, twenty-five years ago. Now, she works with the tramatized children to help them.

D.D. learns that a member of both families who were killed, had been treated at the psych ward. She and her partner come to the ward and speak to Danielle and other staff. They learn there there are a number of connections between the families and the ward.

This is an excellent suspenseful story that covers an emotional area that is difficult to read. However, the story has so much going for it that it is difficult to put down.

There is also good character development with observing D.D.'s life outside her job and Danielle's attempts to get her life together after her childhood trama.

Gardner writes a story where the reader comes to think that the plot is going in a certain direction, only to be surprised and entertained when the story changes course.