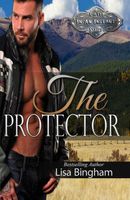 Newest Release
About the Author
Lisa Bingham is the youngest of three children. She has been lucky enough to live and study in such exotic locales as Brazil, Mexico, United Kingdom, and the Continental Europe. Today, she is a teacher at a middle school in northern Utah, and in addition, she's been a professional costume designer for more than twenty years for theatrical and re-enactment attire, and is considered an expert in the field.

She is a self-described "write-aholic", and she believes that writing is as necessary to her as breathing. She loves to while away the precious hours at the computer, writing about the love and laughter that every woman deserves in her life. If she had her way, she would spend most of her day spinning stories, but reality often intrudes. She began writing in her teens, and on 1989 her first book was published while she was in her mid-20s and single. She is the best-selling author of more than two dozen historical and contemporary romantic fiction novels. With more than 1.5 million copies in print. She is eternally grateful to her critique group for their technical advice and support and those "retreats with the girls" that help to keep her sane. She also credits her critique group with finding her husband and consequently approving of their marriage. They live near their four-generation operated farm in northern Utah with their three children, an over-protective dog, a burr-laden cat, and a miniature goat who thinks she's a puppy. Her life is busy some times crazy but she is also dedicated to the pursuit of power shopping (when funds permit) and finding the perfect piece of chocolate.
Full Series List in Order
1 - Accidental Courtship (Jan-2018)
2 - Accidental Family (Mar-2018)
3 - Accidental Sweetheart (May-2018)
1 - Wayward Son (Sep-2018)
2 - The Protector (Nov-2018)
1 - The Other Bride (May-2003)
2 - The Other Groom (Oct-2003)
1 - Tender Conquest (Mar-1989)
2 - Distant Thunder (Jan-1992)
1 - Silken Dreams (Feb-1991)
2 - Silken Promises (Mar-1994)
1 - Sweet Dalliance (Oct-1994)
2 - Sweet Defiance (Jul-1995)
3 - Sweet Decadence (Apr-1996)
1 - Desperado (Jun-2015)
2 - Renegade (Jan-2016)
3 - Maverick (Nov-2016)
1 - Wild Escapade (Oct-1996)
2 - Wild Serenade (Jun-1997)
3 - Wild Masquerade (Oct-1997)
Multi-Author Series List
The Daddy Hunt
(Oct-1996)
8 -
And Babies Make Ten
(Jul-1999)
Dana and the Calendar Man
(Jan-1997)
4 -
The Princess and the Frog
(Aug-1997)
15 -
The Miracle Twins
(Aug-2004)
Book List in Order:
37

titles
---

Tender Conquest

INNOCENT SEDUCTION When prim, proper Esther Miles took over the Benton House Orphanage, she thought she'd be healing the most innocent casualties of the recent war. But the bruised and broken body of a roguish drifter dumped on her doorstep reduce...

---

Silken Dreams

HE WAS A WANTED MAN. SHE WAS A WOMAN WHO KNEW WHAT SHE WANTED... He was her Highwayman, a lusty, sensuous stranger existing only in Lettie Grey's mind: a man whose mere gaze unleashed her most wanton passions, whose velvet touch left her aching...

---

Eden Creek

THEIRS WAS A MARRIAGE OF DARK SECRETS, STUBBORN PRIDE, AND UNEXPECTED ARDOR Betrayed by the only man she ever trusted, Ginny Parker hastily agreed to a new life in the untamed Utah wilderness, and a marriage that was prearranged. Orrin Ghant, a m...

---

Distant Thunder

He was her dearest friend, the protector and champion of her childhood who sheltered her from lifelong fears and haunting memories. He was the only person she ever trusted. But not even Daniel Crocker knew the shattering truth about Susan Hurst's...

---

Temptation's Kiss

Driven by the secrets of her past, prim and proper Chelsea Wickersham, English governess extraordinary, agreed to tutor the long-lost Sutherland heir. Expecting a boy, she was stunned to discover a man -- a heathen man -- a fact made clear when he ar...

---

The Bengal Rubies

Aloise Crawford's father had imprisoned her for years in a French academy before he ordered her back to George III's England for a scandalous reason: to auction her to any suitor who bid highest for her and her dowry of the fabulous Bengal Ru...

---

Silken Promises

Fiona McFee had been just a girl when she first saw Jacob Grey -- almost all of Jacob Grey -- naked and tied up in a field of foxtails. Naturally, as an Irish con man's daughter, she refused to release the young deputy -- while he sunburned his b...

---

Sweet Dalliance

When Micah St. Charles wakes up at the wrong end of a gun aimed by a women who has stolen his clothes, he decides to get clear of Eliza Wilder's barn fast. On the run from the Union army -- accused of treason by the one man who should have lo...

---

Sweet Defiance

It was to be the event of the season for the woman of the decade. Marguerite DuBois, the celebrated artist's model, was about to be married to a man of dazzling wealth -- until an uninvited guest abducted her from the altar. Bram St. Charles, p...

---

---

Nanny Jake

The nanny had he-man muscles! When Delaney McBride opened her office door, she was shocked to find a sexy deliveryman with a very special package--a baby! Trouble was, the deliveryman claimed that the tiny tyke was homeless--and that he was the ba...

---

Sweet Decadence

Augusta McKendrick's serene world is shattered in an instant when a shot rings out at the Billingsly School for Young Ladies and an influential United States senator lies dead in the middle of the library floor. Vainly, she strives to hide the ev...

---

The Butler & the Bachelorette

Butler . . . With a houseful of foster children, Michelle Worthington needed a handyman, security guard and temporary dad all rolled into one. Her help-wanted ad landed her a thief, a drunk and a cross-dresser! Surely, advertising for a butler wou...

---

Wild Escapade

What was a nice girl like Felicity Pedigrue doing in a place like Mother LaRee's house of ill repute? It had to be a mistake. Felicity had been on her way to teach in St. Joseph, Missouri, a city in the heart of the wild wicked west, when she met...

---

The Daddy Hunt

Dear Darby, Here's my baby 1. Feed her 2. Love her 3. Find her daddy Love, Eloise Darby Simms loved baby Sissy instantly, so following her best friend's first two instructions was no problem. Number three--well, that was the catch. Elois...

---

Dana and the Calendar Man

New Year's Resolution #1: Find a Fiance! With a disastrous blind date left on her doorstep, Dana Shaw had no one with whom to ring in the New Year. Then fate stepped in, in the form of an inherited ticket to a New Year's Eve bachelor auction. ...

---

Wild Serenade

Although she hasn't a whit of experience, Patience Pedigue is sure she can be a good governess. She knows Latin, is very neat, and is extremely proper. When she arrives at Miss Bodrill's School for Young Ladies, she feels ready to meet her ...

---

Runner-Up Bride

The Fiancee Test How does the bride-to-be react to: - the gift of a very-well-endowed fertility god? - the fact that the groom's best man is a FEMALE? - the stripper at the bridal shower? This is what adventurous, unconventional Riley Pa...

---

The Princess and the Frog

Once upon a time... Reclusive Edward Babcock had never seen a lovelier sight than the woman he pulled from the sea. She insisted she was a princess, and was quite certain he was her bodyguard Boris. Edward had spent a lifetime hiding his true iden...

---

Wild Masquerade

Though the most sensible of the Pegigrue sisters, Constance has long harbored a romantic dream of working in the theater. But she never expected that a string of disasters would leave her stranded in New York -- and in debt to scandalously successful...

---

---

And Babies Make Ten

Baby Boom! Stephen Dubois was sexy, gentle, funny... and the instant dad of quintuplets left on his doorstep! He was overwhelmed by endless diaper changes and bottle feedings, so his new assistant was the answer to his prayers--and the embodiment ...

---

When Night Draws Near

A handful of survivors, a killer among them--and two former lovers caught in the cross fire .... Elizabeth Boothe was grateful to be alive after the wreckage of her ill-fated flight. But even as she and pilot Seth Brody waited for a rescue plane, ...

---

Man Behind the Voice

His face was the last thing she'd ever seen... Determined to locate the accident victim he'd comforted as her eyesight waned, Jack MacAllister told himself he only wanted to know that she was all right. But when he found Eleanor Rappaport again, h...

---

Call of the Wild

THE LOVE DOCTOR HAS THE ANSWER... Radio sex therapist Alana Childe can't resist the desperate plea for help from one of her most frequent callers, the Godmother. Unwittingly, Alana agrees to take on the case personally -- not knowing the frustrated...

---

Twins Times Two

Was she seeing double? Cara Wells couldn't believe her eyes! Behind the door of successful lawyer Ross Gifford's mansion were his twin daughters...girls identical to her twin. Though they'd been in her care only a short time, Cara was fiercely pr...

---

The Other Bride

Mail-order bride Phoebe Gray should have come stamped "handle with care." Guarding dynamite in a lightning storm would be easier than guiding this one willful redhead all the way west, Gabe Cutter fumed. Yet his Pinkerton-honed instincts told him he ...

---

The Other Groom

Someone wanted her dead -- or so her faintly familiar bodyguard kept telling her. But the only person "Louisa Haversham Winslow" needed protection from was him -- because this gentle giant of a man made her crave things no respectable newly widowed w...

---

The Miracle Twins

A Little Faith and Hope Go a Long Way Foreign correspondent Lucy Devon never pictured herself with kids, but when she comes across conjoined twins -- baby girls -- who need her help, she can't say no. The twins need the kind of medical expertise few...

---

Into the Storm

RueAnn Boggs meets Charles Tolliver, a handsome Brit with a secret job, and in the course of twenty-four hours, RueAnn is swept off her feet―seduced, wed, and then left by dashing Charlie, who hastily departs for an assignment in England. When week...

---

Desperado

From bestselling author Lisa Bingham comes the first in a brand-new series starring a trio of handsome wranglers. The Taggart brothers have bodies of iron and hearts of gold -- though both may be a shade tarnished. But that doesn't stop them from t...

---

---

After the Fall

With Into the Storm, Lisa Bingham wove a spellbinding romance set during the Blitz. Now, she turns her eye to the Pacific in this gorgeous WWII tale of courage, fear, and love on an island doomed to fall.

At the dawn of WWII, the Philippines ...

---

Renegade

The rugged and wild Taggart brothers know how to tame a restless beast, but a restless heart is a different matter... When tragedy struck, Jace Taggart stepped in to run the family business and care for his brothers, sacrificing his own happiness...

---

Maverick

The Taggart brothers' wild romance ride continues with the new novel from the bestselling author of Renegade. Rough riding Bodey Taggart may be rock hard and tough as nails, but even he has a soft side when the right woman comes along... Bode...

---

Accidental Courtship

The Bachelor Meets His Match No women are allowed at the Batchwell Bottoms mining camp -- yet Dr. Sumner Havisham headed West seeking a job there. When an avalanche strands her and several mail-order brides, she's up against strict rules -- and ...

---

Accidental Family

Make-Believe Marriage When newborn twins are dropped on Charles Wanlass's doorstep -- along with a note begging him to protect them -- he knows he needs help to give them a proper home. The only solution: entering a marriage of convenience with ma...

---

Accidental Sweetheart

Her Reluctant Lawman Match Suffragist Lydia Tomlinson won't stand for the rule banning women from the Batchwell Bottoms mining camp…even if protesting it means "kidnapping" miners to use as leverage. And with Pinkerton detective Gideon Gau...

---

Wayward Son

One instant of passion...a lifetime of regret. Whit Patterson left the small town of Larkspur, Wyoming -- and the tight bonds of his childhood friends, the Sinful Six -- when he was accused of causing the horrible acc...

---

The Protector

/ Romantic Suspense

CAN BE READ AS A STAND ALONEA single glance.An instant connection.A lifetime of emotion.When Kirk Webber walked through the doors of United Liberty Savings into a hostage situation, he had no idea the ordeal wouldn't end once he was released. Inste...

---
Frequently Asked Questions (FAQ)
Lisa Bingham has published 37 books.
Lisa Bingham does not have a new book coming out soon. The latest book, The Protector, was published in November 2018.
The first book by Lisa Bingham, Tender Conquest, was published in March 1989.
Yes. Lisa Bingham has 8 series.