Description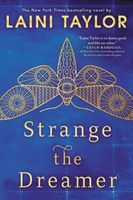 The dream chooses the dreamer, not the other way around--and Lazlo Strange, war orphan and junior librarian, has always feared that his dream chose poorly. Since he was five years old he's been obsessed with the mythic lost city of Weep, but it would take someone bolder than he to cross half the world in search of it. Then a stunning opportunity presents itself, in the person of a hero called the Godslayer and a band of legendary warriors, and he has to seize his chance to lose his dream forever.

What happened in Weep two hundred years ago to cut it off from the rest of the world? What exactly did the Godslayer slay that went by the name of god? And what is the mysterious problem he now seeks help in solving?

The answers await in Weep, but so do more mysteries--including the blue-skinned goddess who appears in Lazlo's dreams. How did he dream her before he knew she existed? and if all the gods are dead, why does she seem so real?

In this sweeping and breathtaking new novel by National Book Award finalist Laini Taylor, author of the New York Times bestselling Daughter of Smoke & Bone trilogy, the shadow of the past is as real as the ghosts who haunt the citadel of murdered gods. Fall into a mythical world of dread and wonder, moths and nightmares, love and carnage.

Welcome to Weep.
Full Synopsis
About the Book
Published:

Apr-2017

(Hardcover)

May-2018

(Paperback)

Formats:

Print / eBook / Audio

Pages:

528

Age Level:

15-22

Purchase:
What Readers Are Saying
What do you think? Write your own comment on this book!
Write a Comment

"You have no idea how much consideration I've given it. I lived seven years inside these books. My body may have been going about its duties in the library, but my mind was here. Do you know what they called me? Strange the dreamer. I was barely aware of my surrounding half the time…I walked around wondering what kind of wings I would buy if the wingsmiths came to town, and if I'd prefer to ride dragons or hunt them"

Strange The Dreamer is the first book in the Strange The Dreamer duology by American author, Laini Taylor. Lazlo Strange is a war orphan brought up in a monastery. A twist of fate sees him working as a librarian at the Great Library of Zosma when the Godslayer comes looking for men and women of skill to help solve the problem facing the city of Weep.

Ever since he was a boy, Lazlo has been fascinated by the city that has been silent in the world for two hundred years. Brother Cyrus fired his passion with fantastic tales, and it has long been his dream to find out what happened to this mysterious place. His voracious appetite for any scrap of knowledge about Weep has filled all his spare time, but what skills could a librarian offer?

Taylor gives the reader a clever and imaginative plot with plenty of twists and turns. Her characters are suitably appealing or repulsive as required, and her world-building is smooth and subtle: there are no info dumps here. Her descriptive prose is often gorgeous, and she demonstrates a clever turn of phrase: "He wasn't conscious that this was a dream. He was simply in it. The logic that belonged to the real world had remained behind, like luggage on a dock" as well as gems of wisdom: "He realised that all this time he'd been looking to the Godslayer as a hero, not a man, but that heroes, whatever else they are, are also men – and women – and prey to human troubles just like anybody else"

This tale has all the required elements of a fantasy adventure: heroes and heroines, gods and goddesses, warriors, orphans, ghosts, angels and demons, monsters and fantastic beasts, dreams and nightmares, alchemy, magic and a mysterious metal called Mesarthium, cruelty and kindness, romance and heartbreak, and all contained within a gorgeous cover (in particular the half blue hardcover). There is much left unresolved so fans will be pleased to know that the story continues in Muse of Nightmares, for which, hopefully, the wait will not be unduly lengthy. Utterly enthralling.