Description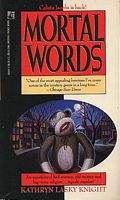 A fundamentalist heckler disrupts a sedate children's literature conference in Boston -- and hours later, award winning illustrator Calista Jacobs and one of her fellow panelists are the victims of vicious pranks. When the third member of the panel is found garroted in his hotel room, the Boston police make the obvious connection.

Too obvious, according to Calista and Charley, her thirteen year-old son with twenty-first-century computer skills. Soon Calista's venturing into the cutting-edge research on DNA and designer genes, the

hallowed halls of a Texas Christian college ... and the arms of Smithsonian archaeologist Archie Baldwin, a consummation devoutly wished and long deferred. A desperate attempt on Calista's life tells her she's on the right track: a twisted trail linking a nationwide genetics scam, a TV preacher's global ambitions, and a visionary scientist gone tragically wrong...
Full Synopsis