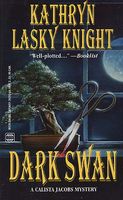 Newest Release
Bibliography:

6 Books - 1 Series

First Book:

May 1986

Latest Book:

March 2012

Rating:
Full Series List in Order
1 - Trace Elements (May-1986)
2 - Mortal Words (Jul-1990)
3 - Mumbo Jumbo (Sep-1992)
4 - Dark Swan (Jul-1994)
Book List in Order:
6

titles
Trace Elements

DEATH BY VENOM... Tom Jacobs' last act in this world was to die face to face with the limitless universe that had been his life's work. But what was he doing in the Nevada desert--and who would kill an astrophysicist with a rattlesnake? When a ...

---

The Widow of Oz

At fifty-two, newly widowed, children grown, Knight realizes most of the decisions of her life have been made by others. The time has come for growth, self-discovery, and for finding her own way home from Oz....

---

Mortal Words

A fundamentalist heckler disrupts a sedate children's literature conference in Boston -- and hours later, award winning illustrator Calista Jacobs and one of her fellow panelists are the victims of vicious pranks. When the third member of the panel i...

---

---

Dark Swan

THE RICH ARE DIFFERENT Children's book illustrator Calista Jacobs is house-sitting in posh Beacon Hill and gets a peek into the world of wealth and privilege of the old guard Boston Brahmins when she befriends neighbor Queenie Kingsley. Unfortu...

---

---
Frequently Asked Questions (FAQ)
Kathryn Lasky Knight has published 6 books.
Kathryn Lasky Knight does not have a new book coming out soon. The latest book, Atlantic Circle, was published in March 2012.
The first book by Kathryn Lasky Knight, Trace Elements, was published in May 1986.
Yes. Kathryn Lasky Knight has 1 series.