Description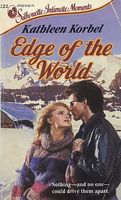 WORLDS APART

A bimbo. That was champion skier Drake McDonald's opinion of his new business partner, Stephanie Fleming. They'd been willed the lucrative Sundance Inn and, much to Drake's dismay, Stephanie was to manage it until his post-Olympic retirement.

Once Drake actually met Stephanie, he realized the brainy beauty was nobody's fool. He quickly wanted only to love, cherish and protect her from whoever was trying to sabotage the inn. But when Drake found himself worrying more about Stephanie and less about his safety-

on the slopes, he realized they would have to discover the saboteur right away--before danger turned to disaster!
Full Synopsis