Description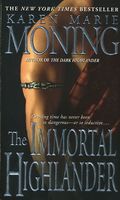 BEWARE: lethally seductive alpha male of immense strength and dark eroticism, do not look at him. Do not touch him. Do not be tempted. Do not be seduced.

With his long, black hair and dark, mesmerizing eyes, Adam Black is Trouble with a capital T Immortal, arrogant, and intensely sensual, he is free to roam across time and continents in pursuit of his insatiable desires. That is, until a curse strips him of his immortality and makes him invisible, a cruel fate for so irresistible a man. Now Adam's only hope for survival is in the hands of the one woman who can actually see him.

Enter law student Gabrielle O'Callaghan. For Gabrielle, cursed with the ability to see both worlds, Mortal and Faery, it is the beginning of a long, dangerous seduction. But as Adam's quest to regain his immortality plunges them into a world of timeless magic, the price of surrender could be their very lives. Unless they can thwart the conspiracy that threatens both Mortal and Faery realms . . . and give them a shot at a destiny few mortals ever know: glorious, wondrous, endless love . . .
Full Synopsis
About the Book
Published:

Aug-2004

(Hardcover)

Jul-2005

(Paperback)

Formats:

Print / eBook / Audio

Pages:

384

Purchase:
What Readers Are Saying
What do you think? Write your own comment on this book!
Write a Comment

AUTHOR: As with all of the books in this series, author Karen Marie Moning puts the male in peril. By means of association, a female is thrust into becoming an object of the perilous situation. In this case however, Karen is in her top sense of humor form.

SYNOPSIS - THIS BOOK IS HILARIOUS!!!!
ADAM BLACK is punished for assisting Dageus in book 5, "The Dark Highlander". Aoibheal, queen of the Tuatha Dé Danann, has cast him into a human body and into a fog called the Feth Fiada causing him to lose the ability to see, hear or make contact with anyone in the "immortal" Fae realm. She sticks him right smack into middle of the 21st century with very very little of his immortal powers. Adam stumbles upon the fact that a member of the Fae Council is attempting to dethrone Aoibheal. Adam must warn the Queen.
GABRIELLE (Gabby) is a Sidhe-seer. The only human capable of seeing immortals in the Fae realm. She is Irish and her ability is a trait that the females in her family have had for centuries. Realizing that she can see him, Adam gets his hands on Gabby (hmmm) and wants to use her as his eyes into the Fae realm.

They are now both in peril. Adam is the only one that stands in the way of avoiding the overthrow of the queen's throne. Gabrielle is the only one that can see Adam's enemy Darroc as he tries to eliminate Adam. Adam and Gabrielle travel from Cincinnati to Scotland. He enlists the help of the Kelter Druid twins, Drustan and Dageus.

SEX SCALE: Of the following five options: 1) NOT very descriptive and requires imagination' 2) WILL make you wiggle a little) 3) WISH it was me; 4) OH boy, do not have to use my imagination at all; 5) EROTICA and well over the top
******THIS BOOK GETS A FOUR for "OH BOY, no imagination necessary". Adam is obviously droolingly handsome*****

FAVORITE PART: Reactions of women when Adam is made visible. HI-LAR-I-OUS….and….All the gifts he showers upon Gabby….and….Sifting.

LEAST FAVORITE PART: the entire book was so funny that I did not find a least favorite part.

YOU WILL LIKE THIS BOOK IF YOU LIKE: Adam Black, a mischievous Fae at the mercy of a mortal. Adam? Someone else's mercy? Sifting. Oh, you do not know what that is? Read to find out. Compacts. Hunters. Attempts to Overthrow. Lots of really cool Gaelic words to learn.

This book gets FIVE STARS. Great humorous plot. Can you imagine Adam Black being punished and being at the mercy of a mortal woman's ability. The stuff Adam can come up with when he gets his mind set on something. Amazing!