Description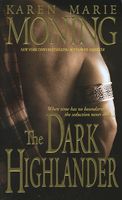 Crisscrossing the continents and the centuries, here is a novel as gripping as it is sensual--an electrifying adventure that will leave you breathless....

I am Dageus MacKeltar, a man with one good conscience and thirteen bad ones, driven to sate my darkest desires...

From his penthouse lair high above Manhattan, Dageus looks out over a glittering city that calls to the darkness within him. A sixteenth-century Scot trapped between worlds, he is fighting a losing battle with the thirteen Druids who possess his soul,

dooming him to an eternity of sexual pursuit. When Chloe Zanders, student of antiquities, is drawn into his world, she finds the insatiable alpha male an irresistible lure.Before long, she is caught up in an ancient prophecy that will sweep her back into time to medieval Scotland. Plunged into a world of timeless magic and dark seduction, she will soon face the challenge of a lifetime: fighting thirteen evil spirits for the heart of one irresistible man....
Full Synopsis
About the Book
Published:

Oct-2002

(Hardcover)

Oct-2002

(Paperback)

Formats:

Print / eBook / Audio

Pages:

400

Purchase:
What Readers Are Saying
What do you think? Write your own comment on this book!
Write a Comment

AUTHOR: As with all of the books in this series, author Karen Marie Moning puts the male in peril. By means of association, a female is thrust into becoming an object of the perilous situation. The author has the ability to write a sexy book with taste and flair. She also fills the book with plenty of exciting action and travel from one place to another. One time period to another.

SYNOPSIS
DAGEUS is a Druid and member of the Kelter clan and sworn to protect and serve Tuatha Dé Danann, an ancient race. Dageus broke one of the rules and now carries the DRAGHAR (DARK DRUIDS) inside of him.
CHLOE has a master's in ancient civilizations and works for a museum. She is assigned to delivering some ancient text to Dageus. He is not home, she snoops and is caught. She becomes his guest prisoner because of what she has found in his penthouse.

They are now both in peril and travel from 21st century New York to Scotland to 16th century Scotland and back. Followers of the Draghar chase him to insure the release of the Dark Druids upon the earth. Chloe being dragged along because they want to use as an incentive to get Dageus to release the evil beings from his body. Dageus and Chloe have help from twin brother Drustan, his da Silvan, and non other than Adam Black, fae prince.

Now you know the story. Hint: Druids of the Kelter clan have only one "MINE" in their lifetime.

SEX SCALE: Of the following five options: 1) NOT very descriptive and requires imagination' 2) WILL make you wiggle a little) 3) WISH it was me; 4) OH boy, do not have to use my imagination at all; 5) EROTICA and well over the top
******THIS BOOK GETS A FOUR for "OH BOY, no imagination necessary". I love these "sexy", buff and aggressive Kelter clan men.*****

FAVORITE PART: Silvan's immediate discovery when he walks up on Dageus and Chloe after they had landed into the 16th century.

LEAST FAVORITE PART: Simon's very boring conversation while trying to capture Dageus.

YOU WILL LIKE THIS BOOK IF YOU LIKE: Time Travel. Science and Magic working together. Cherry picking. Reunion of families. An immortal Fae taking the side of a mortal human.

This book gets FOUR STARS because great plot, great adventure. While it is necessary to lengthen a book and get a true taste of what is happening, I personally hate what I call "book chitter chatter".