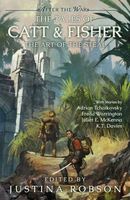 Newest Release
Bibliography:

16 Books - 1 Series

First Book:

April 2003

Latest Book:

December 2020

Rating:
Full Series List in Order
1 - Keeping It Real (Mar-2007)
2 - Selling Out (Oct-2007)
3 - Going Under (Sep-2008)
4 - Chasing the Dragon (Aug-2009)
5 - Down to the Bone (Aug-2011)
Book List in Order:
16

titles
Natural History

A daring and original new novel from one of sci fi's most provocative voices, Natural History is a stunning work of bold ideas, unforgettable characters, and epic adventure as one woman seeks to explore what may be the greatest mystery of all.... ...

---

Silver Screen

Silver Screen presents an enjoyably different, subversive slant on the science fiction themes of AI and cyberspace. Insecure and overweight heroine Anjuli O'Connell is one of a group of friends who have been hot-housed from an early age to perform ...

---

Living Next Door to the God of Love

Where do you run when a world is out to get you? AIs, Forged beings, superheroes, angels, and worlds that change in the blink of an eye -- here is a richly imagined tale of ordinary redemption in an extraordinary world from one of the most provoca...

---

Mappa Mundi

The map of everything you know
everything you are
everything you ever will be
just got rewritten.
A novel of hard SF exploring the nature of identity both inherited and engineered, from one of Britain's most acclaimed new talents. In the ...

---

Keeping It Real

The Quantum Bomb of 2015 changed everything. The fabric that kept the universe's different dimensions apart was torn and now, six years later, the people of earth exist in uneasy company with the inhabitants of, amongst others, the elfin, elemental, ...

---

Selling Out

A wonderfully commercial and immensely original SF series from one of its most acclaimed practitioners.

Perfect for fans of Laurell K. Hamilton and Richard Morgan alike.

An exciting new direction for the critically lauded Justina Robson...

---

Going Under

Lila Black is off with the faeries . . .
Ever since the Quantum Bomb of 2015 things have been different; the dimensions have fused and suddenly our world is accessible to elves, demons, ghosts and elementals -- and their worlds are open to us. Thi...

---

Chasing the Dragon

Ever since the Quantum Bomb of 2015 things have been different; the dimensions have fused and suddenly our world is accessible to elves, demons, ghosts, and elementals -- and their worlds are open to us. Things have been different for Special Agent L...

---

Heliotrope

"A collection of 16 stories by the Arthur C. Clarke Award finalist and best-selling UK writer Justina Robson. Includes the first print publication of ""Dream of Mars"", and the never-before-published title novella Heliotrope."...

---

---

Down to the Bone

Lila Black is now a shapeshifting machine plugged into the Signal -- the total dataset of all events in the known universe and all potential events: Zal, the elf rock star with a demon soul, is now a shadowform animated and given material actualizati...

---

Transformers: The Covenant of Primus

The Covenant of Primus delves into the depths of Transformers mythology to reveal the backstory that's previously only been hinted at. Encased in an interlocking Autobot emblem that when pulled open emits Transformer sounds, this tome is a gift...

---

Salvation's Fire

The thrilling new fantasy adventure from the world of Adrian Tchaikovsky's Redemption's BladeThe Tzarkomen necromancers sacrificed a thousand women to create a Bride for the Kinslayer so he would spare them in the war. But the Kinslayer is dead a...

---

---

---

Paper Hearts

What do Robots dream of? Four leading science fiction authors explore this question in four stand-alone novellas.

ROBOT DREAMS

Are humans to be trusted with the important things: the structure of society, governing their own lives, met...

---

After The War

A brand-new collection of stand-alone stories featuring the return of two fan-favourite characters from the world of the critically acclaimed Redemption's Blade and Salvation's Fire novels. Tales of adventure, fortune, glory, and ...

---
Frequently Asked Questions (FAQ)
Justina Robson has published 16 books.
Justina Robson does not have a new book coming out soon. The latest book, After The War, was published in December 2020.
The first book by Justina Robson, Natural History, was published in April 2003.
Yes. Justina Robson has 1 series.