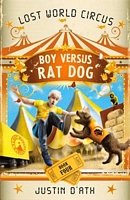 Newest Release
Bibliography:

37 Books - 1 Series

First Book:

January 1903

Latest Book:

September 2021

Rating:
Full Series List in Order
1 - Crocodile Attack (Jan-2010)
2 - Bushfire Rescue (Jan-2010)
3 - Shark Bait (Jun-2010)
4 - Scorpion Sting (Jun-2010)
5 - Spider Bite (Mar-2011)
6 - Man-Eater (Mar-2011)
7 - Killer Whale (May-2011)
8 - Anaconda Ambush (Mar-2011)
Book List in Order:
37

titles
---

Topsy and Turvy

Loved by kids, parents and teachers, these engaging stories are ready to delight a whole new audience of emerging independent readers aged 6â€"8 years. Topsy the fruit bat doesn't like fruit, and gets dizzy if she hangs upside down. Turvy the owl doe...

---

---

Astrid Spark, Fixologist

Astrid Spark has an incredible gift -- her fingers can fix anything that is broken. More important, her magnetic fingers might just be able to fix the hole in the ozone layer. The tale unfolds with great inventiveness, comedy, and lively illustration...

---

---

Robbie and the Dolphins

During a Sunday school picnic Robbie, wheelchair-bound and lonely, meets a returned soldier named Alan. Robbie, who tires of watching the other children play, follows Alan to where he is fishing on the nearby jetty. When Robbie wheels himself to t...

---

---

---

---

---

---

Monkey Mountain

/ General Fiction

There isn't really a word to describe the noise a volcano makes when it erupts. You don't just hear it, you feel it. BOOOOOOOOOOOOOOOM! A class trip to Borneo starts off with a bang a visit to a real-life volcano! But when Mount Bako erupts, Sam...

---

---

Shark Bait

'Suddenly I was back in the blurry green undersea world. And the shark was there, too. Coming straight at me. Fast!'

Sam Fox is on holidays at the Great Barrier Reef when he and a young Japanese tourist are swept off a coral shelf by a frea...

---

---

Panda Chase

/ General Fiction

PINGWU WAS HUGE AND SCARY. HIS BIG YELLOW TEETH WERE AS THICK AS JORDAN'S FINGERS. When a truck tips over on the way to the zoo, Mission Fox are on the case to track down Pingwu, the missing Giant Panda. But when Myrtle tries to help, their panda ch...

---

Snake Escape

/ General Fiction

THE TWINS LOOKED UP . . . 'SHISHKEBAB!' THEY GASPED. BELLA WAS ENORMOUS. Jordan, Harry and Myrtle are on a mission to rescue an escaped pet snake. Bella is a giant hungry python who's spied a cockatoo for breakfast. Can Mission Fox save the day wi...

---

---

---

Killer Whale

With a courageous young hero, exotic settings, non-stop action and short chapters this series will engage reluctant readers. After an emergency landing in Antarctica, Sam Fox and his younger brother are stranded on a wobbly ice floe. Just when it see...

---

---

Dolphin Rescue

/ General Fiction

A BLACK-TIPPED FIN WENT GLIDING PAST . . . THEN ANOTHER . . . THE NEXT ONE WAS EVEN CLOSER. There's no rest for Mission Fox - not even when they're on holiday! Off the coast of Reef Island, Harry and Jordan spot a baby dolphin in trouble. But is Mi...

---

Horse Hijack

/ General Fiction

QUEENIE BROKE INTO A CANTER. JORDAN LAY FLAT ON HER BACK. HE HUNG ON FOR HIS LIFE . . . Ella's horse, Silver Banjo, the Olympic showjumping champion, has been stolen! Mission Fox are on the trail. But how will they get past an iron gate, an elect...

---

Puma Rumour

/ General Fiction

A NOISE CAME FROM INSIDE THE TRAP. IT DIDN'T SOUND PLEASED AT ALL. GRRRRRRRR. Something's been taking sheep from the farms near Nullambine National Park. Could it be the legendary Nullambine Puma? When Mission fox set a trap to find out, they catch ...

---

Zebra Rampage

/ General Fiction

JORDAN WATCHED THE BABY ZEBRA FOR A FEW SECONDS. ITS EYES WERE CLOSED. 'SOMETHING'S WRONG,' HE SAID. Harry and Jordan Fox are on a chairlift ride at Nullambine Zoo when they spy a baby zebra in danger. It looks like a Code Bright Red mission. Can th...

---

---

Koala Roundup

/ General Fiction

'It's not a race!' puffed Harry. He was wrong, Jordan thought. It was a life and death race. When a bushfire threatens the Nullambine Koala Sanctuary, Mission Fox is on the case. It's a race against time, and when twins Harry and Jordan Fox lose thei...

---

Last Elephant

Colt Lawless is on the run, suddenly famous, and more than a little superhuman. But can he save the last animals on earth? 12 years from now, rat flu has wiped out almost every animal and bird on the planet. The creatures in Captain Noah's Lost World...

---

The Lost Elephant

/ General Fiction

Twenty years in the future, animals have been all but wiped out of existence, apart from those kept safe by Captain Noah's travelling Lost World Circus, which people flock to marvel at. Kept alive with regular doses of rat vax, the animals are consta...

---

The Singing Ape

/ General Fiction

Colt's mother has now joined the Lost World Circus to become their new vet and keep the animal's vaccinations up to date and hopefully the dreaded DORF at bay. As Colt gets used to life in the circus, living in a caravan and discovering all the amazi...

---

Secret Superhero

Colt Lawless has been performing superhuman acts all over town. To protect his secret identity, he and Birdy have come up with the ultimate disguise. Superclown - completely fearless and impossibly strong. But when he wrestles with an angry panther a...

---

---

Boy Versus Rat Dog

Colt Lawless is on the run, suddenly famous, and more than a little superhuman. But can he save the last animals on earth? Colt doesn't know his own strength. When a showdown with a $100,000 Rat Dog has tragic consequences, his arch enemy, Officer Ka...

---

Plague Island

/ General Fiction

Colt is on the trail of two of the last regent firebirds in the world, who have been birdnapped by a foreign billionaire. But during the chase to rescue them, he loses the most important thing in the world - his best friend, Birdy. What follows is a ...

---

Animal Planet

/ General Fiction

An electrifying new series from Justin D'Ath, author of the bestselling Extreme Adventures. The deadly rat flu virus has changed - humans are catching it and nobody is sure why. Officer Katt is trying to blame it on the Lost W...

---

Grizzly Trap

With a courageous young hero, exotic settings, non-stop action and short chapters this series will engage reluctant readers. Assistant Cub Scout leader Sam Fox is on a trip to North America with his pack when their bus crashes. With some people serio...

---

---

---

---

---
Frequently Asked Questions (FAQ)
Justin D'Ath has published 37 books.
Justin D'Ath does not have a new book coming out soon. The latest book, Man Eater, was published in September 2021.
The first book by Justin D'Ath, Tiger Trouble, was published in January 1903.
Yes. Justin D'Ath has 1 series.