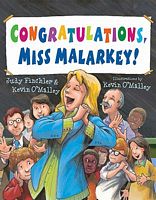 Newest Release
Bibliography:

8 Books - 1 Series

First Book:

September 1996

Latest Book:

August 2009

Rating:
Full Series List in Order
Testing Miss Malarkey (Aug-2003)
You're a Good Sport, Miss Malarkey (Aug-2004)
Congratulations, Miss Malarkey! (Aug-2009)
Book List in Order:
8

titles
Miss Malarkey Doesn't Live in Room 10

I know my teacher, Miss Malarkey, lives in our classroom, Room 10. She's there all the time. In fact, all the teachers live at school. They eat dinner in the cafeteria and sleep in the teachers' lounge. I'm sure of it! So why is Miss Malarkey moving ...

---

Miss Malarkey Won't Be in Today

Miss Malarkey is back (Miss Malarkey Doesn't Live in Room 10) and this time SHE is the one with the over-active imagination! Stuck at home, delirious and helplessly sick, Miss Malarkey can't help but worry about which substitute Principal Wiggins has...

---

Testing Miss Malarkey

The new school year brings standardized testing to every school and Miss Malarkey's is no exception. Teachers, students, and even parents are preparing for THE TEST-The Instructional Performance Through Understanding (IPTU) test-and the school is in ...

---

You're a Good Sport, Miss Malarkey

Miss Malarkey has always been a team player. That's why she's been recruited to be one of the coaches for the new soccer league. While her motto is, "Let's have fun " the parents have other goals in mind. Forget sportsmanship and doing your best, win...

---

Miss Malarkey Leaves No Reader Behind

Miss Malarkey can make a reader out of anyone.Principal Wiggins promises to dye his hair purple and sleep on the school roof if the students read 1,000 books this year. Miss Malarkey is determined to find the right book for each student so they'll pa...

---

---

Congratulations, Miss Malarkey!

Miss Malarkey has been acting strange lately. Whether she's singing down the halls or laughing with Principal Wiggins, her students are beginning to wonder-is she leaving school? Miss Malarkey is definitely hiding something, but it's only a matter of...

---

Miss Malarkey

Every school year brings new adventures, and this year is no exception. Whether it's realizing teachers have lives outside the classroom, having to deal with a substitute teacher, or getting ready for the big standardized test, Miss Malarkey gives he...

---
Frequently Asked Questions (FAQ)
Judy Finchler has published 8 books.
Judy Finchler does not have a new book coming out soon. The latest book, Congratulations, Miss Malarkey!, was published in August 2009.
The first book by Judy Finchler, Miss Malarkey Doesn't Live in Room 10, was published in September 1996.
Yes. Judy Finchler has 1 series.