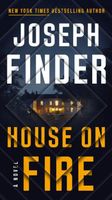 Newest Release
Bibliography:

17 Books - 1 Series

First Book:

February 1991

Latest Book:

January 2020

Rating:
Full Series List in Order
1 - Vanished (Aug-2009)
2 - Buried Secrets (Jun-2011)
3 - Guilty Minds (Jul-2016)
4 - House on Fire (Jan-2020)
Book List in Order:
17

titles
The Moscow Club

Did Lenin, on his deathbed, write a testament denouncing the newly founded Soviet Union as a police state? Did an ultra-secret American organization aid Beria in a failed coup following the death of Stalin? How do these two seemingly unrelated incide...

---

Extraordinary Powers

The news is shattering: Harrison Sinclair, director of the CIA, has been killed in a car accident. His son-in-law, Ben Ellison--an attorney at an old-line Boston law firm and an ex-agent himself--instantly hears rumors ... of sinister forces within t...

---

The Zero Hour

A breathtaking escape from a South African prison. A call girl found brutally murdered. A fugitive American billionaire obsessed with revenge. A digitally encrypted telephone call is intercepted by NSA's spy satellites high over Switzerland, and Spec...

---

High Crimes

Clair Heller Chapman has the perfect life. She's a star Harvard Law School professor and high-powered attorney. Her second husband, Tom Chapman, is a charismatic and successful money manager who adores her and her six-year-old daughter. But then o...

---

---

Company Man

IN ONE MOMENT... Nick Conover is the CEO of a major corporation, a local boy made good, and once the most admired man in a company town. But that was before the layoffs. When a faceless stalker menaces his family, Nick, a single father of two si...

---

Killer Instinct

Jason Steadman is a thirty-year-old sales executive living in Boston and working for an electronics giant, a competitor to Sony and Panasonic. He's a witty, charismatic guy who's well liked at the office, but he lacks the "killer instinct" necessary ...

---

Power Play

It was the perfect retreat for a troubled company. No cell phones. No BlackBerrys. No cars. Just a luxurious, remote lodge surrounded by thousands of miles of wilderness. All the top officers of the Hammond Aerospace Corporation are there. And one l...

---

Vanished

Nick Heller is tough, smart, and stubborn. And in his line of work, it's essential. Trained in the Special Forces, Nick is a high-powered intelligence investigator--exposing secrets that powerful people would rather keep hidden. He's a guy you don't ...

---

---

Buried Secrets

Joseph Finder introduced Nick Heller, a "private spy" who finds out things powerful people want to keep hidden, to widespread acclaim from the critics and wild enthusiasm from the readers, in the New York Times bestselling novel Vanished. Now, in Bur...

---

---

---

---

Guilty Minds

New York Times bestselling author Joseph Finder delivers an exhilarating and timely thriller exploring how even the most powerful among us can be brought down by a carefully crafted lie and how the secrets we keep can never truly stay buried. The...

---

The Switch

A simple mix up throws one innocent man into the crosshairs of sinister government secrets and ruthless political ambitions in New York Times bestselling author Joseph Finder's timely, electrifying new thriller. Michael Tanner is on his way home...

---

---

House on Fire

In New York Times bestselling author Joseph Finder's new thriller, private investigator Nick Heller is hired to infiltrate a powerful family whose wealth and reputation hide something far more sinister. Nick Heller, private spy, exposes secre...

---
Award-Winning Books by Joseph Finder
Killer Instinct
2007 Thriller Award -- Novel
Frequently Asked Questions (FAQ)
Joseph Finder has published 17 books.
Joseph Finder does not have a new book coming out soon. The latest book, House on Fire, was published in January 2020.
The first book by Joseph Finder, The Moscow Club, was published in February 1991.
Yes. Joseph Finder has 1 series.