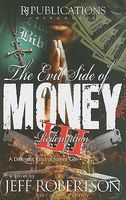 Newest Release
Bibliography:

4 Books - 1 Series

First Book:

July 2006

Latest Book:

November 2009
Full Series List in Order
1 - The Evil Side of Money (Dec-2007)
2 - For the Love of Money (Sep-2008)
3 - Redemption (Nov-2009)
Book List in Order:
4

titles
---

The Evil Side of Money

Violence, intimidation and carnage are the order as Nathan and his brother set out to build the most powerful drug empires in Chicago. However, when God comes knocking Nathan's conscience starts to surface. Will his haunted criminal past get the best...

---

For the Love of Money

A beautigul woman from Bolivia threatens the existence of the drug empire that Nate and G have built. While Nate is head over heels for her, G can see right through her. As she brings on more conflict between the crew, G sets out to show Nate exactly...

---

Redemption

Forced to abandon the drug world for good, Nathan and Derrick attempt to change their lives and move on with their lives. Adopted by a local church, they find out that washing away past sins come with definitive consequences. Nathan's life is transfo...

---
Frequently Asked Questions (FAQ)
Jeff Robertson has published 4 books.
Jeff Robertson does not have a new book coming out soon. The latest book, Redemption, was published in November 2009.
The first book by Jeff Robertson, Drug Lord, was published in July 2006.
Yes. Jeff Robertson has 1 series.