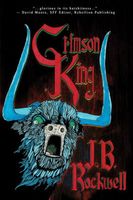 Newest Release
Bibliography:

8 Books - 1 Series

First Book:

April 2014

Latest Book:

October 2021

Rating:
Full Series List in Order
1 - Serengeti (Feb-2016)
2 - Dark and Stars (Dec-2016)
Book List in Order:
8

titles
Breakshield

Found at the intersection of life and the afterlife, the Between is a place where science and reason are replaced by magic and violence. It is a place where Typhon and his Huntsman of the Dark Waste spread like a plague and where Talents go to die. T...

---

---

---

Serengeti

It was supposed to be an easy job: find the Dark Star Revolution Starships, destroy them, and go home. But a booby-trapped vessel decimates the Meridian Alliance fleet, leaving Serengeti -- a Valkyrie class warship with a sentient AI brain -- on her ...

---

Dark and Stars

Fifty-three years Serengeti drifted, dreaming in the depths of space. Fifty-three years of patient waiting before her Valkyrie Sisters arrive to retrieve her from the dark. A bittersweet homecoming follows, the Fleet Serengeti once knew now in shambl...

---

---

Forgotten Stars & Distant Seas

After twenty years spent fighting the alien Kekktekians on the Halgren Defense Coalition's behalf, Captain Thomas Faraday finds himself reassigned to the AI warship Hadrian, and playing watchdog over the terraforming project on Armistice. A quiet, bo...

---

Crimson King

...glorious in its batshitness... — David Moore, SFF Editor, Rebellion PublishingBanished to his grandparents' farm for the summer, Casey soon runs afoul of the Bimiangus: a government experiment gone wrong turned bloodthirsty, moordurous bull...

---
Frequently Asked Questions (FAQ)
J.B. Rockwell has published 8 books.
J.B. Rockwell does not have a new book coming out soon. The latest book, Crimson King, was published in October 2021.
The first book by J.B. Rockwell, Breakshield, was published in April 2014.
Yes. J.B. Rockwell has 1 series.