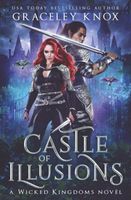 Newest Release
Bibliography:

10 Books - 2 Series

First Book:

April 2017

Latest Book:

January 2021
Full Series List in Order
1 - A Reluctant Huntress (Mar-2020)
2 - A Huntress Betrayed (Apr-2020)
3 - A Royal Huntress (Jan-2021)
1 - Mark of Truth (Apr-2017)
2 - Crown of Betrayal (Jul-2017)
3 - Throne of Secrets (Oct-2017)
3.5 - Yuletide Revelry (Nov-2017)
4 - Castle of Illusions (Aug-2020)
Book List in Order:
10

titles
Mark of Truth

Ever Leath, leader of the deadliest crew within the Magical Enforcement and Containment Agency's ranks, has always known she's a half-breed--until a visit from her estranged mother changes everything. She's determined to marry Ever off for political ...

---

Crown of Betrayal

Now that the threat to Ever is imprisoned and gone for good, she can focus on what really matters: getting rid of the goblins living in her house as "protection" and getting back to work capturing rogue Fae for the Magical Enforcement and Contain...

---

Throne of Secrets

As Ever struggles with the possible consequences of her actions, she works to keep her crew safe in the middle of a political minefield. Determined to keep her promises, Ever enlists the help of an unlikely ally, and together they expose secrets and ...

---

---

Kiss of Frost

Fighting to save a family of dragons from evil mages? Easy.When Ivy thwarted an intruder trying to break into her family's antique shop, she never thought she'd end up stuck in the middle of a dangerous war between mages bent on harnessing the la...

---

A Reluctant Huntress

There are only two ways you leave the Wild Hunt: You die, or you're too old to get the job done. That was until Jinx up and left without an explanation. For the last five years, she's lived in the human world, chasing down rogue supernaturals and...

---

---

Castle of Illusions

Ever McElva is only sure of one thing. She's ready to bring these babies into the world and end the threat coming at her from both sides. As soon as one problem ends, another pops up and Ever can only trust her crew and her mate, Dare Fitzpatrick to ...

---

---

---

---
Frequently Asked Questions (FAQ)
Graceley Knox has published 10 books.
Graceley Knox does not have a new book coming out soon. The latest book, A Royal Huntress, was published in January 2021.
The first book by Graceley Knox, Mark of Truth, was published in April 2017.
Yes. Graceley Knox has 2 series.