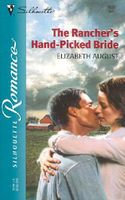 Newest Release
About the Author
Betty Marie Wilhite had always wanted to write. She married Doug, and they had three boys, the first was Douglas Jr., four years later Benjamin, and nine years later the last, Matthew. The family lived in Wilmington, Delaware. She began writing romances soon after Matthew was born. She wrote under the pseudonyms of Betsy Page, Elizabeth Douglas, Elizabeth August and Kathleen Ward.
Full Series List in Order
1 - The Virgin Wife (Feb-1993)
2 - Haunted Husband (Mar-1993)
3 - Lucky Penny (Jun-1993)
4 - A Wedding for Emily (Aug-1993)
5 - The Seeker (Feb-1994)
6 - A Father's Vow (Jan-1996)
7 - A Handy Man To Have Around (Jun-1996)
8 - The Husband (Oct-1996)
9 - The Determined Virgin (Jun-1997)
10 - Paternal Instincts (Dec-1997)
1 - The Forgotten Husband (Jul-1994)
2 - Ideal Dad (Jan-1995)
3 - A Husband for Sarah (Mar-1995)
Multi-Author Series List
5 -
Cinderella Story
(Nov-1997)
The Bridal Shower
(Jul-1995)
15 -
The Rancher and the Baby
(Nov-1996)
Haunted Husband
(Mar-1993)
Ideal Dad
(Jan-1995)
A Father's Vow
(Jan-1996)
Girls' Night Out
(Sep-1998)
Paternal Instincts
(Dec-1997)
8 -
A Royal Mission
(May-2000)
15 -
One Last Fling!
(Mar-1994)
2 -
The Bride's Second Thought
(Apr-1998)
The Man from Natchez
(May-1991)
Lucky Penny
(Jun-1993)
Book List in Order:
39

titles
---

Author's Choice

TRAPPED BY LOVE Melinda Oliver was happily married...sort of. Circumstance had forced her into a temporary marriage with the dashing John Medwin, and now she had to maintain the facade of marital bliss. However, acting like a woman in love was the...

---

Truck Driving Woman

CHAUFFEUR-DRIVEN MAN A tragedy had brought them together, but Darcy Raines could see no future in her growing attraction to Cole York. She drove a truck and operated heavy machinery, while the wealthy Cole -- Darcy imagined -- lunched at a country...

---

Wild Horse Canyon

LOVE THINE ENEMY For years the Colberts and Randolphs had battled over Wild Horse Canyon. Now feisty Maggie Randolph had to marry to keep her inheritance, and Joe Colbert was a willing bridegroom -- as long as the canyon was her dowry. It was a pe...

---

Something So Right

A MATTER OF TRUST Frank Davidson wasn't convinced that Laura Martin's brother had been framed for hijacking his trucks -- until Frank and Laura teamed up and caught the real culprits red-handed. He admired Laura's determination to brin...

---

The Nesting Instinct

MARRIAGE OF CONVENIENCE At twenty-seven, schoolteacher Meg Delany was quickly approaching spinsterhood in the opinion of everyone in her small mid-western town. The gossip didn't bother her, but she still felt plagued by that nesting instinct....

---

Joey's Father

FATHER AND SON Jessie Mallery had been a blushing bride when her husband, Brant, deserted her without a word, shattering all of Jessie's hopes and dreams. Now, Jessie was a single mother...and she lived in fear that Brant would discover -- and...

---

Ready-Made Family

ALL IN THE FAMILY Never trust a man were words Emily Hartley chose to live by. And except for occasional bouts with loneliness, she did just fine...until bachelor father Jed Sawyer made her an offer she couldn't refuse. The rugged farmer wante...

---

The Man from Natchez

THE TAURUS MAN Waving a red flag to tempt the Taurus man will surely send this stubborn, bullheaded hunk charging in the opposite direction. Instead, woo him gently and let him think it was his idea! ONE TAURUS MAN IN PARTICULAR Rough-and-rugged...

---

A Small Favor

A FAVOR FOR A FRIEND When Callie Benson agreed to do a favor for her family doctor and take an injured man into her home, she hadn't expected to get involved with the handsome, mysterious stranger. But Morgan Evans needed her support to overco...

---

---

The Cowboy and the Chauffeur

RANCHER TO THE RESCUE Rachel Hadley thought five years as a New York chauffeur had finally taught her to steer clear of trouble. But there she was again, stranded on a dead-end street -- no job, no home and nowhere to turn for help...until her ver...

---

Like Father, Like Son

CHILD OF PASSION Rebecca Worthen had been swept away by dashing Texas rancher Tanner Lathrop -- but fled when she'd discovered she was carrying his baby. Certain that what Tanner felt for her was passion, not love, she'd set him free and t...

---

Pirate Bride

DANGEROUS SEAS No man had ever stirred Kathleen. Until now. As Jonathan Ashford stood, proud and defiant, awaiting "justice" at the hands of his pirate captors, he had touched something deep within her. He could not, must not, die! With reckless cou...

---

The Wife He Wanted

WEDDING BELL BLISS? When powerful businessman P. Bradley Franklin swept into the office to check out her company's books, Annabelle Royd vowed to keep things strictly professional. But the irresistible executive was like no man she'd ever ...

---

The Virgin Wife

"Virginity can be hazardous to your health...." The anonymous telephone message left Madaline MacGreggor-Smythe stunned. Who else but she and her husband-in-name-only knew the truth about her sham of a marriage? Surely not Colin Darnell, who'd jus...

---

Haunted Husband

Next-door daddy Chief of Police Thatcher Brant didn't need Samantha Hogan, his aggravating--albeit attractive-- neighbor, in his life. His affection was reserved for his children, two beautiful reminders of the past. He'd chosen a safe woman to lo...

---

Lucky Penny

Find a penny ... All Celina Warley craved in her silent world was a child. But in a small town like Smytheshire, Massachusetts, a baby needed a father--and a woman needed a husband! Mr. Maybe had eluded her all her life, until Celina unearthed a p...

---

A Wedding for Emily

A lifetime of waiting Sixteen years ago, Ryder Gerard watched as Emily Sayer was deserted by her family and scorned for her unwed pregnancy. His dead brother was the father of her son--and Ryder worried that this boy would share the Gerard secret...

---

The Seeker

FOUND: One Tall, Dark Cowboy Intuition had led Amanda MacGreggor to the faraway land of cowboys and coyotes. Now, glimpsing the lone rider silhouetted against the South Dakota sky, she sensed that she was about to meet her destiny. An impulse h...

---

One Last Fling!

IT TAKES A SPECIAL MAN TO WIN THAT SPECIAL WOMAN! What had come over Bernadette Dowd? Reporter Max Laird couldn't imagine. The sedate Miss Dowd had let her hair down and become a tigress overnight. Queen of the duller than dishwater assignment...

---

---

The Forgotten Husband

Why had Eloise married Jonah Tavish? With her memory lost, she had to believe Jonah when he claimed their marriage was a financial bargain. But Eloise hadn't forgotten the passion they'd once shared. And she couldn't deny the desire she still felt...

---

The Forever Gift

The joy of Christmas and the magic of marriage await you when you join four of your favorite authors in this very special holiday collection. And in Elizabeth August's The Forever Gift the holidays can be hard when you're alone like Abigai...

---

Ideal Dad

FATHER KNOWS BEST Murdock Parnell had come to the lake house looking for solitude. Instead, he found a ready-made-family. Pretty Irene Galvin and her son, Jeremy, filled his days with sunshine--and helped him forget painful memories. And when Jer...

---

A Husband for Sarah

The Unexpected Husband Forever single, Sarah Orman had returned to Wyoming to find her Mr. Right. But he decidedly wouldn't be Sam Raven. One-hundred-percent Native American and all-male arrogance, the maddening ranch hand had long ago made Sarah'...

---

The Bridal Shower

The Groom says, "I will." When Michael Flint learned that Emma Wynn was about to marry another man, he was determined to stop her. She'd turned down his proposal before, but Michael would get his "yes" this time. He knew what was best for Emma--he c...

---

A Father's Vow

Daddy wants a wife Lucas Carver owed Felicity Burrow a debt he could never repay. She had miraculously transformed his son's silent world while adding joy to his own. And though they had never met before, Lucas felt Felicity was tied to him in uni...

---

A Handy Man To Have Around

SOMETHING STRANGE WAS GOING ON IN SMYTHESHIRE... Posing as Gillian Hudson's handyman was just a ploy Taggart Devereux had devised to bring them together. For he was having "visions" of Gillian in danger. And Taggart knew he was the only one who co...

---

The Husband

WHO WAS JOE WHITEDEER? A commanding military man? A dark, compelling secret agent? Or...someone else altogether? For five years, his young widow, Beatrice Gerard, remained prisoner to unanswered questions...and longings. But all she knew was that ...

---

The Rancher and the Baby

ONLY A MOTHER KNOWS Amelia Varden wasn't her baby's natural mother, but she'd raised the little boy from birth. Now, after lying to the world about their family ties, it was time to pay for her deception. Because someone had come to cl...

---

The Determined Virgin

FROM VIRGIN BRIDE TO VIRGIN WIFE? Newlyweds Garth and Hesper Lawton had agreed not to consummate their marriage of convenience. But as the groom fought his feelings and desire for his sweet, innocent bride, he grumpily realized she intended to rem...

---

---

Cinderella Story

A desperate mother fights to save her family.... A child's life hangs in the balance... A powerful man offers a surprising solution.... They shared one moonlit dance before she disappeared into the night, leaving Alex Bennett with no clue to the...

---

Paternal Instincts

MARRY ME... For Romance-weary Roxanne Dugan, another loveless marriage seemed out of the question. But desperate to win custody of a special little boy, she proposed a marriage in name only to a virtual stranger with surprisingly paternal instincts...

---

The Bride's Second Thought

THE STRANGER AND THE VIRGIN Bride-to-be Ellen Reese was all set to wed "Mr Right." But second thoughts sent her off on a ride that would change her life. Who knew that Mother Nature's worst blizzard would strand her in a mountain cabin with a rugg...

---

Girls' Night Out

SMALL-TOWN SCANDAL. Girls' night out was supposed to be a time to have fun, to unwind, to share secrets among friends. But Susan Hallston wasn't prepared for the stories about a secret marriage, a secret affair...a secret child! Or for the...

---

Marrying O'Malley

THE MARRIAGE DOWRY When Wolf O'Malley returned to town after a mysterious six-year absence, he was irresistibly drawn to his childhood sparring partner, Sarita Lopez. He felt especially protective of the enticing innocent when he discovered th...

---

Logan's Bride

A WOMAN WITH A PAST Katrina Polinari couldn't seem to escape her family ties. Though she'd made good as a police officer, to many people she was still linked with the sins of her father. A MAN WITH A FUTURE Boyd Logan was hot on the ...

---

Truly, Madly, Deeply

A WILLING WIFE? Sweet-natured Minerva Brodwick knew that Judd Graham would stop at nothing to protect his beloved little brood, but never had she imagined the protective father would go so far as to propose a marriage of convenience! Falling for h...

---

A Royal Mission

Under cover of darkness, Lance Grayson conducted the most crucial rescue mission of his career. And succeeded. Though dazed from her ordeal, the rightful Princess Victoria of Thortonburg was still breathtakingly beautiful...and spirited enough to que...

---

Slade's Secret Son

LOVE CHILD Memories flooded Slade Logan at first glimpse of Lisa Gray. More than two years ago she'd shared his bed, but deeply guarded guilt had made it impossible for him to share his life. So Lisa left...though not alone. She'd taken with her a...

---

The Rancher's Hand-Picked Bride

Gwen Murphy, once the girl from the ranch next door, owed her aging Apache neighbor big-time. But deploy her private-investigator skills to a find a wife for Morning Hawk's great-grandson? And move into his home to do so? Dang it! For years, virile J...

---

---
Frequently Asked Questions (FAQ)
Elizabeth August has published 39 books.
Elizabeth August does not have a new book coming out soon. The latest book, The Rancher's Hand-Picked Bride, was published in April 2003.
The first book by Elizabeth August, Author's Choice, was published in January 1988.
Yes. Elizabeth August has 2 series.