Description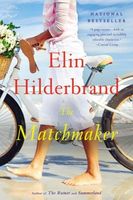 A touching new novel from bestselling author Elin Hilderbrand in which a woman sets out to find love for those closest to her - before it's too late.

48-year-old Nantucketer Dabney Kimball Beech has always had a gift for matchmaking. Some call her ability mystical, while others - like her husband, celebrated economist John Boxmiller Beech, and her daughter, Agnes, who is clearly engaged to the wrong man - call it meddlesome, but there's no arguing with her results: With 42 happy couples to her credit and all of them still together, Dabney has never been wrong about romance.

Never, that is, except in the case of herself and Clendenin Hughes, the green-eyed boy who took her heart with him long ago when he left the island to pursue his dream of becoming a journalist. Now, after spending 27 years on the other side of the world, Clen is back on Nantucket, and Dabney has never felt so confused, or so alive.

But when tragedy threatens her own second chance, Dabney must face the choices she's made and share painful secrets with her family. Determined to make use of her gift before it's too late, she sets out to find perfect matches for those she loves most. The Matchmaker is a heartbreaking story about losing and finding love, even as you're running out of time.
Full Synopsis
About the Book
Published:

Jun-2014

(Hardcover)

Feb-2015

(Paperback)

Formats:

Print / eBook / Audio

Pages:

416

Purchase:
What Readers Are Saying
What do you think? Write your own comment on this book!
Write a Comment
I was given the galley copy of this book by the publisher, and when I first received it I was a little apprehensive. Romance is not usually a genre that I read, but this book is actually quite remarkable. I understand that Ms. Hilderbrand is known for writing summer novels. Her books are meant for reading while lying on the sand soaking up the sun's rays. I suppose that this book could fall into that category, but it is a wonderful and terribly sad novel about a woman by the name of Dabney Kimball Beech who lives on the island of Nantucket. Nantucket itself almost becomes a character in this book so realistically is it portrayed by Ms. Hilderbrand. Dabney is a 48 year old woman who was born and raised on Nantucket. After going away to college, she has come back to the island, married and raised her daughter. Dabney doesn't ever want to leave Nantucket. Due to an incident that happened when she was ten, she doesn't feel safe unless she is on her beloved island. Dabney is known by everyone on the island, and she has earned a reputation as an astonishingly successful matchmaker. Dabney's history catches up with her in the summer of her 49th year when her lost love from high school returns to Nantucket. How she handles this sudden appearance of her lost but not forgotten love is the essence of this book. All the external forces that are pushing at Dabney from every direction during this memorable summer are shaking up her usually quiet and peaceful life. Then another catastrophic thing happens to Dabney which rocks her safe world right to it's foundation and forces her to face the choices she has made in her life. This is a hearbreaking and touching story and I really enjoyed it.