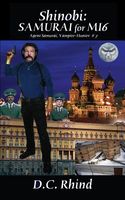 Newest Release
Bibliography:

13 Books - 2 Series

First Book:

June 2009

Latest Book:

September 2014

Rating:
Full Series List in Order
1 - Once a Samurai... (Jun-2009)
2 - Always a Samurai (Sep-2009)
3 - Immortal Samurai (Apr-2010)
4 - Ronin: Outlaw Samurai (Sep-2011)
5 - Daimyo: Lord Samurai (Jul-2012)
6 - Maha-Ka: Sorcerer Samurai (Aug-2013)
7 - Shinobi: Samurai for Mi6 (Sep-2014)
1 - The Warlord's Blade (Sep-2009)
2 - The Wizard's Quest (Sep-2009)
3 - The Sorcerer's Gambit (Aug-2010)
4 - Revenge of the Wolf (Mar-2011)
5 - The Pirates' Nemesis (Feb-2012)
Book List in Order:
13

titles
Once a Samurai...

Michael Cameron has been a biology teacher and a martial arts instructor, an intelligent problem-solver. When all else fails, his grounding force has been Shaolin Zen and the discipline of Bushido. The death of his mother and learning that his father...

---

Always a Samurai

CSIS wants Mike to go to Afghanistan and rescue a missing agent. So does a mysterious vampire. The CIA and MI6 are willing to lend a hand, but things aren't what they seem and Michael is becoming increasingly suspicious. Twice his life has been saved...

---

The Warlord's Blade

Lord Darios is a sorcerer, a vile dealer in necromancy. Banished by the Wizard's Council or Oder of the Earth-powered, he seeks revenge, the conquering of all Calebra. Unaided, Darios' earth-power is awesome, but with the Ice-Fire of Calebra, a huge ...

---

The Wizard's Quest

The evil sorcerer, Darios, seeks domination of the world of Calebra, his inhuman army sweeping south, destroying all who stand against it. Calebra's hopes of survival rest on the shoulders of two young men: Landon, Crown-Prince of the Kingdom of Pale...

---

Immortal Samurai

Now CSIS's special agent, code-named Samurai, has a new mission, and it's personal. There's a contract out on him, placed there by a coven of elitist vampires who have banded together to destroy him. Mike must survive the onslaught of both human and ...

---

The Sorcerer's Gambit

-Lord Landon is dead, mysteriously. -His son, Darion, has disappeared. -Scrolls pertaining to sorcery have been stolen from the order of the Earth-Powered. -The mysterious thied seems to be a deadly Warrior of Darkness. -Fragments of the Ice-Fire of ...

---

Revenge of the Wolf

King Darion, Queen Shaela, and infant Prince Landorlas, along with Captain Nelron of the King's Guard, are promoting the idea of an Elected Council when a terrorist detonates a bomb, completely destroying the Royal Coach. Narell returns to Palendar t...

---

Ronin: Outlaw Samurai

Someone is killing petty criminals, leaving clues that point to the vigilante previously referred to in the news as Halifax's Van Helsing or The Samurai Vampire-Killer. Framed, Michael Cameron is declared a rogue agent by CSIS, and a warrant is issue...

---

The Pirates' Nemesis

After fifteen years, King Darion refuses to give up hope of finding his missing son, even though the Order has long-since reduced its efforts. Meanwhile, on a south sea island, a young man of unusual powers and talents grows up as the adopted son of ...

---

---

Daimyo: Lord Samurai

Carrie has disappeared and a mysterious lady-vampire is terrorizing the Carpathians. Fearing it might be Carrie, Mike must set out to find her. At the same time, he is still under pressure from CSIS to fulfill his true mission: Uncover what Cesare Bo...

---

Maha-Ka: Sorcerer Samurai

Borgia and Torok may be gone, but vampires in Europe still want revenge on Michael Cameron. They plot to attack the branch of the Scholomance in Scotland, where Mike is both a student and a teacher of aspects of the Wiccan craft. Mike's latest missio...

---

Heart of a Samurai

/ General Fiction

Michael Cameron has just come home; his father is confined to a nursing home with terminal lung cancer. While sitting bedside through his father's battle with pneumonia, Mike's memories flash back to being bullied in his childhood, his days in Be...

---

Shinobi: Samurai for Mi6

MI6's 00-Section Training Supervisor, Bruce Mason, goes missing, along with files that reveal the names and fitness status of 00-agents, and circumstantial evidence points to Russian involvement. With the press branding Mason a traitor, hoping to emb...

---
Frequently Asked Questions (FAQ)
D.C. Rhind has published 13 books.
D.C. Rhind does not have a new book coming out soon. The latest book, Shinobi: Samurai for Mi6, was published in September 2014.
The first book by D.C. Rhind, Once a Samurai..., was published in June 2009.
Yes. D.C. Rhind has 2 series.