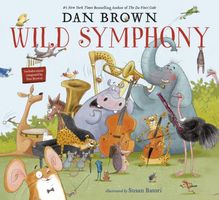 Newest Release
About the Author
Dan Brown was born in 1964. He is a graduate of Amherst College and Phillips Exeter Acadamy, where he spent time as an English teacher before writing full time.
He is the son of a Presidential Award winning math professor and of a professional sacred musician. Dan's wife Blythe, an art historian and painter collaborates on his reseach and accompanies him on his frequent research trips.

Full Series List in Order
1 - Angels & Demons (May-2000)
2 - The Da Vinci Code (Mar-2003)
3 - The Lost Symbol (Sep-2009)
4 - Inferno (May-2013)
5 - Origin (Oct-2017)
Book List in Order:
9

titles
---

Digital Fortress

When the NSA's invincible code-breaking machine encounters a mysterious code it cannot break, the agency calls its head cryptographer, Susan Fletcher, a brilliant and beautiful mathematician. What she uncovers sends shock waves through the corridors ...

---

Angels & Demons

World-renowned Harvard symbologist Robert Langdon is summoned to a Swiss research facility to analyze a cryptic symbol seared into the chest of a murdered physicist. What he discovers is unimaginable: a deadly vendetta against the Catholic Church by...

---

Deception Point

A shocking scientific discovery. A conspiracy of staggering brilliance. A thriller unlike any you've ever read.... When a NASA satellite discovers an astonishingly rare object buried deep in the Arctic ice, the floundering space agency procl...

---

The Da Vinci Code

While in Paris on business, Harvard symbologist Robert Langdon receives an urgent late-night phone call: the elderly curator of the Louvre has been murdered inside the museum. Near the body, police have found a baffling cipher. While working to solve...

---

The Lost Symbol

In this stunning follow-up to the global phenomenon The Da Vinci Code, Dan Brown demonstrates once again why he is the world's most popular thriller writer. The Lost Symbol is a masterstroke of storytelling -- a deadly race through a real-world labyr...

---

Inferno

Now, with his stunning new novel, Inferno, Dan Brown takes readers deep into the heart of Italy ... guiding them through a landscape inspired by one of history's most ominous literary classics. THE DARKEST PLACES IN HELL ARE RESERVED FOR THOSE WHO...

---

Origin

Bilbao, Spain Robert Langdon, Harvard professor of symbology and religious iconology, arrives at the ultramodern Guggenheim Museum Bilbao to attend a major announcement -- the unveiling of a discovery that "will change the face of science forever....

---

Wild Symphony

#1 New York Times bestselling author Dan Brown makes his picture book debut with this mindful, humorous musical, and uniquely entertaining book! Travel through the trees and across the seas with Maestro Mouse and his musical friends! Young readers...

---

---

---
Award-Winning Books by Dan Brown
The Da Vinci Code
2004 Book Sense Book of the Year Award -- Adult Fiction
2005 Buckeye Children's Book Award -- Teen
2005 Iowa High School Book Award -- Young Adult
Inferno
2013 Goodreads Choice Award -- Mystery & Thriller
Frequently Asked Questions (FAQ)
Dan Brown has published 9 books.
Dan Brown does not have a new book coming out soon. The latest book, Wild Symphony, was published in September 2020.
The first book by Dan Brown, Digital Fortress, was published in February 1998.
Yes. Dan Brown has 1 series.