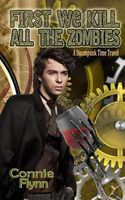 Newest Release
Bibliography:

10 Books - 1 Series

First Book:

February 1997

Latest Book:

October 2015

Rating:
Full Series List in Order
1 - Shadow on the Moon (Mar-1997)
2 - Shadow of the Wolf (Jan-1998)
Multi-Author Series List
34 -
40 Tons of Trouble
(Feb-1997)
Book List in Order:
10

titles
40 Tons of Trouble

Moving on down the highway... That's all Cat DeAngelo wants to do, but it's getting harder and harder. That's because someone's trying to ruin DeAngelo Transport. Cat's trucks have suffered a rash of break-ins, and a slimy competitor keeps un...

---

Shadow on the Moon

A LOVE TOO DANGERUS TO POSSESS Dana Gibbs, a biologist who specializes in wolf behavior, is in Arizona to join an investigative team looking into a series of mysterious deaths. Some people believe wolves are the killers. Dana knows better: there are...

---

Only Couples Need Apply

TWO REPORTERS, ONE STORY--ONE BED! It's the wedding of the year--a world-famous rock star marrying a gorgeous supermodel and every reporter in the country wants the story. The only way to get it is to land a job on the secluded desert ranch where ...

---

Shadow of the Wolf

BENEATH A SHADOWY MOON . . . No one in New York City knows Lily's frightening secret --- or that she had been swept into a life of terror by a power too strong to resist. Miraculously, she escaped that world, and now has the chance to find a happy, ...

---

The Fire Opal

Liz Deveraux thought she had escaped the rumors and superstitions that haunted her as a child. But then her mother's funeral brought her back to Louisiana--back to the veiled whispers of dark magic that surrounded her family, and back into the arms o...

---

The Wedding Dress Mess

DO YOU TAKE THIS... THIEF? When Duncan Mulcahey discovered his sweet mom had pilfered an antique wedding gown, he did what any dutiful son would do: he covered for her. But insurance investigator Vicky Deidrich was on the case, determined to take ...

---

The Dragon Hour

As ruler of the land of Lochlorraine, Caryn finally has the power and freedom she'd always wanted. But a botched experiment has left her kingdom floating in a time bubble, where it is plagued by a terrifying dragon. The people of Lochlorraine despera...

---

Know When to Run

SHE WOKE UP KNOWING SHE CHEATED DEATH Imagine waking up one morning knowing nothing except you have a huge scar on your head and its clear someone tried kill you. That's what happened to Ky Taylor. Lucky enough to fall into friendly hands, she is now...

---

First We Kill All the Zombies

So Many Twists and Turns it's Like a Thrill Ride. A couple's long delayed honeymoon is interrupted when they get shanghaied to Nineteen-Twenties America where a diabolical team is fabricating zombie soldiers. She is a brilliant biophysicist, he a for...

---

---

Play Dead

Meet Jessica GrayhawkeShe once had everything she'd ever dreamed of. A perfect law-enforcement family, a delightful daughter, a husband she adored and who loved her back and, thanks to her father's super tutoring, a cushy job as police chief for a lu...

---
Frequently Asked Questions (FAQ)
Connie Flynn has published 10 books.
Connie Flynn does not have a new book coming out soon. The latest book, First We Kill All the Zombies, was published in October 2015.
The first book by Connie Flynn, 40 Tons of Trouble, was published in February 1997.
Yes. Connie Flynn has 1 series.