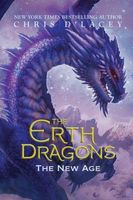 Newest Release
Bibliography:

30 Books - 4 Series

First Book:

July 2001

Latest Book:

June 2019

Rating:
Full Series List in Order
1 - Gruffen (Jul-2008)
2 - Gauge (Jan-2010)
1 - The Wearle (Jan-2017)
2 - Dark Wyng (Feb-2018)
3 - The New Age (Jan-2019)
1 - The Fire Within (May-2005)
2 - Icefire (May-2006)
3 - Fire Star (Sep-2006)
4 - The Fire Eternal (Jul-2008)
5 - Dark Fire (Oct-2009)
6 - Fire World (May-2011)
7 - The Fire Ascending (May-2012)
Rain & Fire: A Companion to the Last Dragon Chronicles (Oct-2012)
1 - A Dark Inheritance (Jun-2014)
2 - Alexander's Army (Jun-2015)
3 - A Crown of Dragons (May-2016)
Book List in Order:
30

titles
From E to You

Though reluctant to correspond at first, Guy and Annabelle become fast cyber-friends, but their budding relationship creates havoc when they start to speculate about what caused the feud between their fathers. Original....

---

---

Fly, Cherokee, Fly

When Darryl discovers a homing pigeon with a broken wing, things look bleak - after all who wants a pigeon with a broken wing? But Darryl has never had a pet - and he is determined to keep her. Soon his patience is rewarded and Cherokee starts to f...

---

A Break in the Chain

Yellow Bananas Teacher's Guide Based on the Yellow Bananas series, this resource for teachers helps reinforce and enhance what students learn in their core reading program through engaging activities that focus on reading skills. Teachers will find: ...

---

Frankin's Bear

Benjamin Franklin and his bear are hard at work on a new invention. But will it protect the townsfolk from the lightning storm? Fantastic facts about using electricity. Make your own musical instrument....

---

---

The Fire Within

Does David believe in the power of dragons? When David moves in with Liz and her eleven-year-old daughter, Lucy, he discovers a collection of clay dragons that may -- or may not -- come to life. David's own special dragon inspires him to write a sto...

---

The Snail Patrol

This gastropodic adventure tells the tale of Darren, a young entrepreneur trying to rid his neighbor's garden of snails. Arming himself with a flashlight, a jam jar, and a pocketful of spinach, Darren tackles his mission with gusto, only to find that...

---

Icefire

Is David up for the challenge? In the exciting sequel to The Fire Within, David must uncover the truth behind the mysterious clay dragons. David's quest is to discover the link between the fire of the last known dragon on earth and the icy regions o...

---

---

Fire Star

There is a fire star coming, signaling a time of new beginnings. A time for dragons to rise again. A research trip to the Arctic and a contract for a new book - life can't get much better for David Rain. But as soon as David finds himself in the icy...

---

The Fire Eternal

A new magic is stirring beneath the surface of the Earth. . . . Five years have passed since David Rain, now a bestselling author, disappeared mysteriously in the Arctic. And slowly the ice is changing, bears are starving, dragons are rising, the so...

---

Gruffen

First title in a new series about the dragons made by Elizabeth Pennykettle. The stories set the scene for Chris d'Lacey's epic dragon series, being set in the time just before David Rain arrives in the Pennykettle household....

---

Dark Fire

The dragons are rising. . . . Bestselling author David Rain was lost in the Arctic for five years. Now, his daughter, Alexa, has brought him back, but a lot more has returned to Earth with him. Dragons are back as well. And with them is a hidden tra...

---

Gauge

The town council wants to demolish the old clock and replace it with a fancy modern one. Lucy's mother is determined to stop it -- with the help of a timing dragon named Gauge. Will Gauge, Lucy and the ghost Sir Rufus Trenchchomb be able to outsmart ...

---

The Last Dragon Chronicles

/ Fantasy

From Book 1: Best-selling author Chris d'Lacey brings us a magical story about mysterious hand crafted clay dragons who have unusual powers.

When David moves in with Liz and Lucy, he discovers a collection of hand crafted, clay dragons that co...

---

Shrinking Ralph Perfect

/ General Fiction

There's something a bit weird about Ralph's new neighbour, Jack Bilt, and it isn't long before Ralph finds out the strange secret. Jack Bilt has managed to get his hands on a powerful miniaturisation device and has been using it on people! He's been ...

---

The Dragons of Wayward Crescent

/ General Fiction

When Lucy Pennykettle suspects there's a monster in her bedroom, her mum knows exactly what to do. She makes a guard dragon - Gruffen - to look after Lucy. But soon Gruffen realises there's a mystery behind the monster......

---

---

---

---

Fire World

After destroying a trace of dark fire, David, Zanna, and the Pennykettle dragons vanished. In a brand-new world, Co:per:nica, which runs parallel to that of Crescent Lane, firebirds roam the ancient librarium, a museum for books. But when 12-year-old...

---

The Prompter

There's no way hyperactive Robin can play a part in the school production of Peter Pan. Or is there? For Robin's amazing memory gets him the job of prompter - and eventually a starring role that leads to a hilarious performance. A funny, delightful t...

---

The Fire Ascending

On Earth, at the battle of Scuffenbury Hill, time has been suspended. Dragons and their natural enemies, the Ix, are trapped in a bitter, unresolved conflict. But at the dawn of history, something is working to change the past -- and the future. A my...

---

Rain & Fire: A Companion to the Last Dragon Chronicles

A fascinating and comprehensive companion to the NEW YORK TIMES bestselling series, the Last Dragon Chronicles! While the NEW YORK TIMES bestselling Last Dragon Chronicles has come to a close, husband and wife Chris and Jay d'Lacey have collaborat...

---

A Dark Inheritance

When Michael Malone unexpectedly saves a dog's life, he discovers something extraordinary: He can alter reality. He is quickly recruited by UNICORNE, a secret organization dedicated to investigating strange, and paranormal phenomena. He agrees to joi...

---

Alexander's Army

From the NEW YORK TIMES bestselling author of the LAST DRAGON CHRONICLES comes an action-packed paranormal adventure full of mystery, alternate realities, thrills and chills. When Michael Malone is assigned a new mystery to solve by the UNICORNE a...

---

A Crown of Dragons

Although Michael Malone has completed two missions for the secretive UNICORNE agency, he is still far from finding his missing father. But when he is asked to investigate a scale of a dragon -- the very same artifact his father researched before he d...

---

The Wearle

A Wearle of dragons set out on an expedition from their home planet and was never heard from again. Now, a new Wearle, determined to find the first, has come to the place its creatures call Erth. Gabrial, who still has the blue scales of a young drag...

---

Dark Wyng

The dragon Wearle is in turmoil: A human boy named Ren has bonded with a pair of baby dragons, and their connection has given him shocking and extraordinary new powers. Though some of the dragons suspect he is plotting against the Wearle, his dragon ...

---

The New Age

From Erth to the dragon homeworld, Ki:mera, everything has been forever changed by the meeting of dragons and humans. Their fate has become inextricably intertwined -- and their story will transform the very fabric of time. Ren, the human boy, now...

---

---

---
Frequently Asked Questions (FAQ)
Chris D'Lacey has published 30 books.
Chris D'Lacey does not have a new book coming out soon. The latest book, The Unicorne Files, was published in June 2019.
The first book by Chris D'Lacey, From E to You, was published in July 2001.
Yes. Chris D'Lacey has 4 series.