Description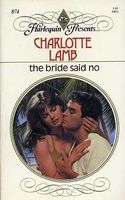 The bride was having second thoughts

With the wedding only a day away, Miranda had more than prenuptial jitters. She felt betrayed by the two men she loved most in the world.

How could her father have promised Sean control of the family business in return for his marrying her? Time was running out, and Miranda knew she couldn't go through with the ceremony while her head was buzzing with unanswered questions.

Surely once he found her note, Sean would accept her change of heart and not try to force her

into something she might always regret....
Full Synopsis