Description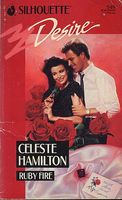 WATCH OUT, NASHVILLE!

Cassandra Martin was back in town wearing her little red suit and big ruby ring that matched the fire in her soul. Friends and neighbors welcomed her warmly, but one man seemed determined to rain on her parade. Daniel O'Grady was once her best friend, her would-be lover and the man she'd badly betrayed. He was the one she'd left behind and now was the reason she'd returned . . . vowing to rekindle the flame.

Liz, Cassandra and Magpie are AUNT EUGENIA'S TREASURES.

As sparkling as

diamonds, as fiery as rubies, as precious as pearls--now what these women need are worthy men.
Full Synopsis