Description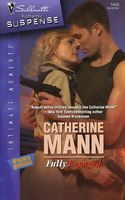 A fine line between duty and desire

They'd shared one wild weekend of passion, then she'd left without a word. Five years later, Nola Seabrook tracked down Captain Rick DeMassi to apologize for her hasty departure, not realizing this fresh encounter would lead to Rick moving in with her...as her bodyguard.

Playing protector to his ex-lover had not been Rick's plan. But disturbing letters and a nearly fatal car bomb soon had him jumping into action.

He fully intended to protect Nola with his life, find

out why she'd been so quick to leave his bed...and do whatever was necessary to get her back in it.
Full Synopsis
About the Book
Published:

Nov-2006

Formats:

Print / eBook

Pages:

256

Purchase:
What Readers Are Saying
What do you think? Write your own comment on this book!
Write a Comment

Fully Engaged,by Catherine Mann (SIM 1440 - 11/06)
[Wingmen Warriors - 11] (B+ Subtle+)

The heroine had a role in last year's "The Captive"s Return" when Lucas Quade went into South America to find the wife he thought was long dead (in case anyone is wondering if she's been mentioned before).

SPOILER REVIEW - SPOILER REVIEW - SPOILER REVIEW
SPOILER REVIEW - SPOILER REVIEW - SPOILER REVIEW

Five years ago, facing a devastating change in her life and seeking some comfort, 25-year-old Lieutenant Nola Seabrook walked into an Officer's Club bar in Texas and deliberately chose Captain Rick DeMallis for a one-night stand that stretched into a memorable thirty hours together. She left him with a note on the pillow, "Thanks for a great weekend. Have a nice life."
Now Nola is in a stalker situation and Rick is there for her again, but this time in the role of bodyguard and protector... but there have been some major changes in his life too, since she last saw him. Skipping over a lot of important information there so the reader can have those revelations first hand...

This is a healing and second chances book ... each of those things in several different areas. As always with Catherine Mann, the bantering dialogue is exceptional and the connection to her characters is solid.