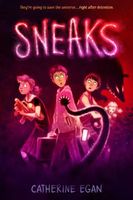 Newest Release
Bibliography:

8 Books - 1 Series

First Book:

July 2012

Latest Book:

January 2022

Rating:
Full Series List in Order
1 - Julia Vanishes (Jun-2016)
2 - Julia Defiant (Jun-2017)
3 - Julia Unbound (Jun-2018)
Book List in Order:
8

titles
Shade and Sorceress: The Last Days of Tian Di

/ Fantasy

The powerful and learned Mancers arrive in Eliza's town to take her away to their Citadel. The only problem is they have made a terrible mistake â€" Eliza isn't the powerful Sorceress they think her to be. Or is she? Eliza is stunned to learn her...

---

Shade & Sorceress: The Last Days of Tian Di, Book 1

Eliza knows for certain what she isn't: the powerful sorceress the learned Mancers think her to be. Or is she? Eliza is stunned to learn her father has been keeping important secrets. Her mother's death wasn't from pneumonia, but the death of all gre...

---

The Unmaking

Eliza, now fourteen, has been studying magic and gaining a reputation for her power. She has much yet to learn―although she understands things like the Ancient Magic, by which things are made and unmade, she cannot yet affect it herself. She is str...

---

Bone, Fog, Ash & Star

Now a formidable Sorceress, Eliza Tok at sixteen is a world away from the unknowing child she once was. But unlike the previous Shang Sorceresses, Eliza will always act out of love, for those she loves, above all else. Above even the greater good of ...

---

Julia Vanishes

This page-turning fantasy thriller introduces Julia -- a thief and spy for hire. Witchcraft may be illegal in her world, but magic still rules.   Julia has the unusual ability to be ... unseen. Not invisible, exactly. Just beyond most people's s...

---

Julia Defiant

Julia and a mismatched band of revolutionaries, scholars, and thieves have crossed the world searching for a witch. But for all the miles traveled, they are no closer to undoing the terrible spell that bound an ancient magic to the life of a small ch...

---

Julia Unbound

In this heart-pounding conclusion to the Witch's Child trilogy, Catherine Egan's masterful world-building and fiercely flawed heroine will thrill fans of Graceling and Six of Crows. Julia has been ensnared in so many different webs, it's hard to s...

---

---
Frequently Asked Questions (FAQ)
Catherine Egan has published 8 books.
Catherine Egan does not have a new book coming out soon. The latest book, Sneaks, was published in January 2022.
The first book by Catherine Egan, Shade and Sorceress: The Last Days of Tian Di, was published in July 2012.
Yes. Catherine Egan has 1 series.