Description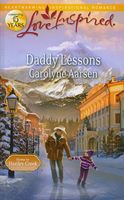 Hometown Reunion

Her high school sweetheart is the last person teacher Hailey Deacon expects to encounter back home in Hartley Creek. Since Dan Morrow closed the door on their future, Hailey's determined to make this a temporary stay. She has an ill grandmother to take care of. But when Dan, now a widower, brings his troubled six-year-old daughter to Hailey for help, how can she refuse? Working with both father and daughter, she vows not to fall for him again. But if a determined little girl has her way, Hailey won't be leaving Hartley

Creek again anytime soon.
Full Synopsis
What Readers Are Saying
What do you think? Write your own comment on this book!
Write a Comment
Home to Hartley Creek
Book 2

Oops! I didn't realize I was actually reading the second book in the series. My bad! This is the first one I've read...

This was a heart-wrenching story at times, and a sweet story at other times. The little girl's suffering over losing her mother makes you want to break into tears. The tragedy surrounding the break up of Hailey and Dan seven years ago is also pretty sad. But slowly we watch healing take place.

The romance in this was very good and very realistic! There were a few passionate kisses that made me feel like they were more human and just maybe normal. I LOVED the prayer at the end. I thought that was very, very sweet. I also like how God helped Dan get closure on his past. Very good story! Cannot wait to visit Harley Creek again!