Description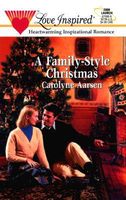 THE LONG ROAD HOME

The swaggering stranger was every warning nurse Caitlin Severn had ever heard, all wrapped up in one handsome, dangerous package. Yet, from the moment she saw his motorcycle crash and his manly strength shatter, something about Simon Steele called to her soul ....

She stayed--and prayed--by his side. Slowly nursed him to health. And behind his bravado she found a man struggling for faith, for a feeling of family his harsh, foster care upbringing had denied him. And with Christmas coming, Caitlin asked only that Simon finally find his way home... to the Lord ...and to love.

Stealing Home: Three siblings discover that home is always where the heart is.
Full Synopsis
About the Book
Published:

Jan-2000

Formats:

Print / eBook

Pages:

256

Purchase:
What Readers Are Saying
What do you think? Write your own comment on this book!
Write a Comment

Meet Caitlin Severn. She's a nurse and comes from a loving Christian family. She has two sisters and a brother, all married. She also just broke up with her boyfriend of three years after his "big" announcement that he was moving to LA!

Meet Simon. He has nobody except a partner who helps him dabble in the stock market and buy real estate. He has an estranged mother and brother somewhere, but he didn't know where his mother was and his brother had not spoken to him in 162 years...but that's because Simon told him not to.

How ever did these two met? It was a freak accident...or rather, a hit-and-run accident - car versus motorcycle, and Simon was the one on the motorcycle. If you ask Simon about their first meeting, he'd say she saved his life. If you asked Caitlin, she'd say it was his cocky smile that got to her. At any rate, he ended up at her hospital on her floor - and HIS patient!

Oh, but this isn't just your normal, everyday romance. Simon doesn't believe he will ever meet someone who would be happy with him - not when he's so insecure...

But then there's Caitlin - and she just may have exactly what he needs - a family...

This was a sweet story. I loved their first kiss in the hospital room. He knocked her off her feet - literally!!! I enjoyed their sweet innocent romances...

But I have to wonder about Caitlin's calling his brother - seems to me that would be more unethical than innocent, stolen kisses she was so worried about...But then this is Canada and maybe their rules on such practices aren't as strict!

This is a DEFINITE read!!!