Description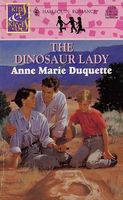 "I think Matt likes you, Dinosaur Lady."

Jason paused to adjust his crutches. "I think he likes you a lot. It wouldn't hurt you to like him back."

Noelle was stunned. Like him back? Oh, but she did -- far too much! She watched Matt turn in the saddle to check on their progress, then glanced at Jason's troubled face. She sighed.

"Jason, sweetheart, let me explain something to you. The fact that you found a genuine dinosaur fossil was a real miracle. The fact that Matt gave me permission to dig on his ranch was another. But I'm not here to make Matt like me. I'm here to make a name for myself as a paleontologist -- a real Dinosaur Lady, not just a TV personality.

"What about Matt?" Jason asked stubbornly.

"I can't give up my fossil hunting just to make him happy." No matter how much she was beginning to wish she could...
Full Synopsis