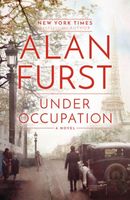 Newest Release
Bibliography:

20 Books - 1 Series

First Book:

February 1980

Latest Book:

November 2019

Rating:
Full Series List in Order
1 - The World at Night (Jan-1999)
2 - Red Gold (Apr-1999)
Book List in Order:
20

titles
---

---

---

Shadow Trade

Guyer, a former intelligence officer dismissed by the Central Intelligence Agency, sets up his own business in clandestine operations and becomes caught up in the intrigue, ruthless politics, duplicity, and power games of private intelligence compani...

---

Night Soldiers

BEFORE ARMIES CLASH, A SILENT WAR RAGES. THE WAR OF THE NIGHT SOLDIERS 1934. Europe is a short-fused powder keg, and from the East comes just the man to light it: Khristo Stoianev, a new recruit of Russia's elite intelligence corps, the NKVD. Khri...

---

---

The Polish Officer

September 1939. As Warsaw falls to Hitler's Wehrmacht, Captain Alexander de Milja is recruited by the intelligence service of the Polish underground. His mission: to transport the national gold reserve to safety, hidden on a refugee train to Buchares...

---

The World at Night

"First-rate research collaborates with first-rate imagination. . . . Superb."—The Boston GlobeParis, 1940. The civilized, upper-class life of film producer Jean Casson is derailed by the German occupation of Paris, but Casson learns that with e...

---

Red Gold

"Nothing can be like watching Casablanca for the first time, but Furst comes closer than anyone has in years."—TimeAutumn 1941: In a shabby hotel off the place Clichy, the course of the war is about to change. German tanks are rolling toward M...

---

---

Kingdom of Shadows

"Kingdom of Shadows must be called a spy novel, but it transcends genre, as did some Graham Greene and Eric Ambler classics."—The Washington PostParis, 1938. As Europe edges toward war, Nicholas Morath, an urbane former cavalry officer, spends...

---

Blood of Victory

NEW YORK TIMES BESTSELLER • "[Furst] glides gracefully into an urbane pre–World War II Europe and describes that milieu with superb precision." —Janet Maslin, The New York TimesIn the autumn of 1940, Russian émigré journalist I. A. Sereb...

---

The Book of Spies

An anthology of the world's best literary espionage, selected by a contemporary master of the genre, Alan Furst. Here is an extraordinary collection of work from some of the finest novelists of the twentieth century. Inspired by the politics of tyr...

---

Dark Voyage

"In the first nineteen months of European war, from September 1939 to March of 1941, the island nation of Britain and her allies lost, to U-boat, air, and sea attack, to mines and maritime disaster, one thousand five hundred and ninety-six merchant...

---

The Foreign Correspondent

From Alan Furst, whom The New York Times calls "America's preeminent spy novelist," comes an epic story of romantic love, love of country, and love of freedom–the story of a secret war fought in elegant hotel bars and first-class railway cars...

---

The Spies of Warsaw

An autumn evening in 1937. A German engineer arrives at the Warsaw railway station. Tonight, he will be with his Polish mistress; tomorrow, at a workers' bar in the city's factory district, he will meet with the military attache from the French embas...

---

Spies of the Balkans

GREECE, 1940. In the port city of Salonika, with its s wharves and brothels, dark alleys and Turkish mansions, a tense political drama is being played out. As Adolf Hitler plans to invade the Balkans, spies begin to circle -- and Costa Zannis, a seni...

---

Mission to Paris

It is the late summer of 1938, Europe is about to explode, the Hollywood film star Fredric Stahl is on his way to Paris to make a movie for Paramount France. The Nazis know he's coming -- a secret bureau within the Reich Foreign Ministry has for ye...

---

Midnight in Europe

Paris, 1938. As the shadow of war darkens Europe, democratic forces on the Continent struggle against fascism and communism, while in Spain the war has already begun. Alan Furst, whom Vince Flynn has called "the most talented espionage novelist of ...

---

A Hero of France

A riveting novel about the French Resistance in Nazi-occupied Paris. 1941. The City of Light is dark and silent at night. But in Paris and in the farmhouses, barns, and churches of the French countryside, small groups of ordinary men and women are...

---

---

Under Occupation

From "America's preeminent spy novelist" (The New York Times) comes a fast-paced, mesmerizing thriller of the French resistance fighters working secretly and bravely to defeat Hitler. Occupied Paris, 1942. Just before he dies, a man being ...

---
Award-Winning Books by Alan Furst
Kingdom of Shadows
2002 Hammett -- Best Novel
Frequently Asked Questions (FAQ)
Alan Furst has published 20 books.
Alan Furst does not have a new book coming out soon. The latest book, Under Occupation, was published in November 2019.
The first book by Alan Furst, The Paris Drop, was published in February 1980.
Yes. Alan Furst has 1 series.