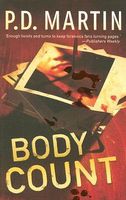 Length:

5 Books

First Book:

January 2007

Latest Book:

August 2010

Genres:

Romantic Suspense

Rating:
Sophie Anderson Series in Order (5 Books)
Book Descriptions for series: Sophie Anderson
Body Count

Book - 1


FBI agent Sophie Anderson has been trained to crawl into the sick minds of serial killers, to understand their depraved impulses and vile cravings--to catch them before the body count rises. Newly relocated from Australia, Sophie is starting to fe...

---

The Murderers' Club

Book - 2


FBI profiler Sophie Anderson is struggling to move beyond a case that six months ago nearly cost her her life and even now threatens her sanity. She is increasingly haunted by her ability to experience the minds of killers in the throes of heinou...

---

---

The Killing Hands

Book - 4


IN KUNG FU, TARGETED STRIKES CAN KILL INSTANTLY...BUT HOW? Just as Aussie FBI profiler Sophie Anderson is settling into her job in the L.A. bureau, she's pulled into a case that's different from anything she's ever seen--the victim has had his throa...

---

Kiss of Death

Book - 5


A young woman's body is found with puncture marks on her neck, and soon the delicious word vampire is on everyone's lips. All of FBI profiler Sophie Anderson's skills -- psychic and psychological -- will be needed for her to determine whether this wa...

---
Frequently Asked Questions (FAQ)
There are 5 books in the Sophie Anderson series.
The Sophie Anderson series does not have a new book coming out soon. The latest book, Kiss of Death (Book 5), was published in August 2010.
The first book in the Sophie Anderson series, Body Count, was published in January 2007.
The Sophie Anderson series primarily falls into the Romantic Suspense genre.