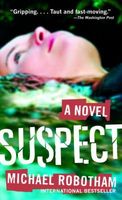 Length:

9 Books

First Book:

March 2004

Latest Book:

July 2018

Genres:

Thriller

Rating:
Joe O'Loughlin Series in Order (9 Books)
Book Descriptions for series: Joe O'Loughlin
---

---

The Sleep of Reason

Book - 3


A.K.A. SHATTER - Joe O'Loughlin is on familiar territory--standing on a bridge high above a flooded gorge, trying to stop a distraught woman from jumping. She is naked, wearing only high-heel shoes, sobbing into a cell phone. Suddenly, she turns ...

---

---

Bleed for Me

Book - 5


She's standing at the front door. Covered in blood. Is she the victim of a crime? Or the perpetrator? A teenage girl--Sienna, a troubled friend of his daughter--comes to Joe O'Loughlin's door one night. She is terrorized, incoherent-and covered in...

---

Say You're Sorry

Book - 6


TWO MISSING GIRLS. TWO BRUTAL MURDERS. ALL CONNECTED TO ONE FARM HOUSE. WHO IS TO BLAME? When pretty and popular teenagers Piper Hadley and Tash McBain disappear one Sunday morning, the investigation captivates a nation but the girls are never fou...

---

Watching You

Book - 7


New York Times bestselling author Michael Robotham brings us face-to-face with a manipulative psychopath who has destroyed countless lives and is about to claim one final victim. Marnie Logan often feels like she's being watched: a warm breath on ...

---

Close Your Eyes

Book - 8


When a former student bungles a murder investigation, clinical psychologist Joseph O'Loughlin steps in to face a ruthless killer. A mother and her teenage daughter are found murdered in a remote coastal home, one defiled by multiple stab wounds an...

---

The Other Wife

Book - 9


Childhood sweethearts William and Mary have been married for sixty years. William is a celebrated surgeon, Mary a devoted wife. Both have a strong sense of right and wrong. This is what their son, Joe O'Loughlin, has always believed. But wh...

---

---
Frequently Asked Questions (FAQ)
There are 9 books in the Joe O'Loughlin series.
The Joe O'Loughlin series does not have a new book coming out soon. The latest book, The Other Wife (Book 9), was published in July 2018.
The first book in the Joe O'Loughlin series, Suspect, was published in March 2004.
The Joe O'Loughlin series primarily falls into the Thriller genre.