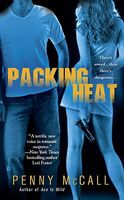 Length:

2 Books

First Book:

April 2009

Latest Book:

February 2010

Genres:

Romantic Suspense

Rating:
Connor Larkin Series in Order (2 Books)
Book Descriptions for series: Connor Larkin
Packing Heat

Book - 1


When a sexy computer genius turned convict is paired with a firecracker FBI agent, love on the run can be way more than just fun... Cole Hackett's got a grudge. Eight years ago, he trusted the FBI and created a masterwork of computer security p...

---

The Bliss Factor

Book - 2


TROUBLE IN PARADISE Rae Blissfield became the world's most buttoned-up accountant to escape childhood hell: growing up in a traveling Renaissance faire, thanks to her hippy-dippy parents. And now they're begging her to help "babysit" one of their col...

---
Frequently Asked Questions (FAQ)
There are 2 books in the Connor Larkin series.
The Connor Larkin series does not have a new book coming out soon. The latest book, The Bliss Factor (Book 2), was published in February 2010.
The first book in the Connor Larkin series, Packing Heat, was published in April 2009.
The Connor Larkin series primarily falls into the Romantic Suspense genre.