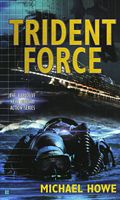 Length:

3 Books

First Book:

December 2008

Latest Book:

July 2010

Genres:

Action Adventure

Rating:
The Trident Force Series in Order (3 Books)
Book Descriptions for series: A Trident Force Novel
Trident Force

Book - 1


They never fight the same enemy twice. They never have to... Led by ex-Navy SEAL Mike Chambers, Trident Force is the blackest of the black ops. Their specialty: fighting the war on terror at sea. Handpicked for their skills above and below the water...

---

---

Threat Level

Book - 3


Off the coast of Africa, modern-day pirates are striking at will. But when they kill the young daughter of an influential friend of the U.S. President, they go over the line. Because now Trident Force has been sent in to find the bloodthirsty brigand...

---
Frequently Asked Questions (FAQ)
There are 3 books in The Trident Force series.
The Trident Force series does not have a new book coming out soon. The latest book, Threat Level (Book 3), was published in July 2010.
The first book in The Trident Force series, Trident Force, was published in December 2008.
The Trident Force series primarily falls into the Action Adventure genre.