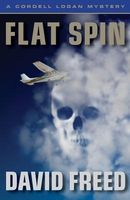 Length:

5 Books

First Book:

June 2012

Latest Book:

September 2016

Rating:
The Cordell Logan Series in Order (5 Books)
Book Descriptions for series: A Cordell Logan Mystery
---

---

Voodoo Ridge

Book - 3


It's 1956. A plane bearing a mysterious cargo takes off from a small airport outside Los Angeles and disappears into a raging storm. Nearly 60 years later, while flying over California's Sierra Nevada Mountains, retired military assassin-turned-civil...

---

The Three-Nine Line

Book - 4


More than forty years after their release from the notorious "Hanoi Hilton," three American prisoners of war return to Vietnam to make peace with their most brutal former captor, a guard whom they've dubbed, "Mr. Wonderful." The U.S. State Department...

---

---
Frequently Asked Questions (FAQ)
There are 5 books in The Cordell Logan series.
The Cordell Logan series does not have a new book coming out soon. The latest book, Hot Start (Book 5), was published in September 2016.
The first book in The Cordell Logan series, Flat Spin, was published in June 2012.
The Cordell Logan series primarily falls into the General Fiction genre.