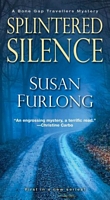 Length:

3 Books

First Book:

December 2017

Latest Book:

January 2020

Genres:

Mystery

Rating:
The Bone Gap Travellers Series in Order (3 Books)
Book Descriptions for series: A Bone Gap Travellers Novel
Splintered Silence

Book - 1


It's hard to bury the past when bodies keep turning up … After an abrupt end to her tour of duty, former Marine MP Brynn Callahan and her canine partner, Wilco, arrive stateside -- both bearing the scars of battle. With a mix of affection and...

---

Fractured Truth

Book - 2


When the mutilated remains of a young woman are found in an Appalachian Mountain cave, newly sworn-in deputy sheriff Brynn Callahan is forced to track down a killer driven by twisted motives... Not long after donning the uniform of the McCreary...

---

Shattered Justice

Book - 3


In the Appalachian town of Bone Gap, Tennessee, backwoods justice is more than just blind. It's swift, silent, and shockingly personal. Especially for Irish Traveller turned deputy sheriff Brynn Callahan . . . "Hear No Evil." The first ...

---
Frequently Asked Questions (FAQ)
There are 3 books in The Bone Gap Travellers series.
The Bone Gap Travellers series does not have a new book coming out soon. The latest book, Shattered Justice (Book 3), was published in January 2020.
The first book in The Bone Gap Travellers series, Splintered Silence, was published in December 2017.
The Bone Gap Travellers series primarily falls into the Mystery genre.