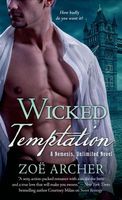 Newest Release
About the Author
Zoe Archer is an award-winning romance author who thinks there's nothing sexier than a man in tall boots and a waistcoat. As a child, she never dreamed about being the rescued princess, but wanted to kick butt right beside the hero. She now applies her master's degrees in Literature and Fiction to creating butt-kicking heroines and heroes in tall boots. Zoe and her husband live in Los Angeles where they share an office and take turns accosting the cats. When she isn't writing, Zoe loves to bake, read and plan home improvement projects.


Full Series List in Order
1 - Warrior (Sep-2010)
2 - Scoundrel (Oct-2006)
3 - Rebel (Nov-2010)
4 - Stranger (Dec-2010)
1 - Skies of Fire (Apr-2012)
2 - Skies of Steel (Nov-2012)
3 - Skies of Gold (Aug-2013)
1 - Devil's Kiss (Dec-2011)
2 - Demon's Bride (May-2012)
3 - Sinner's Heart (Apr-2013)
1 - Sweet Revenge (Jun-2013)
1.5 - Winter's Heat (Oct-2013)
2 - Dangerous Seduction (Dec-2013)
3 - Wicked Temptation (Jun-2014)
Book List in Order:
21

titles
---

Lady X's Cowboy

East End Meets Wild West To Lady Olivia Xavier, the cowboy who came to her rescue out of the foggy London dusk could have stepped straight from one of her favorite dime novels. But when she was thrown into his arms, his solid chest and strong embr...

---

Scoundrel

The Blades of the Rose are sworn to protect the sources of magic in the world. But the work is dangerous -- and they can't always protect their own… READY FOR ACTION... London Harcourt's father is bent on subjugating the world's magic to Bri...

---

Love in a Bottle

It is the most beautiful fungus botanist Sophie Andrews has ever seen. And the man who comes with it is a pretty fine specimen, too. Sophie knows the bottle of love potion the roguish peddler tries to push on her is a hoax, but she has no time to arg...

---

No Law Against Love 2

The highly anticipated No Law Against Love 2 follows on the heels of its predecessor with seven delightful stories of how antiquated laws can be the catalyst for romance. California...be careful how you clean your car.England.your handful of a cat co...

---

The Undying Heart

Samuel Reed had no idea magic existed, until it almost destroyed him. Thirsting for vengeance against the enemy who made him something less than human, Sam returns to England and crosses paths with Cassandra Fielding. His best friend's little sister ...

---

Warrior

To most people, the realm of magic is the stuff of nursery rhymes and dusty libraries. But for Capt. Gabriel Huntley, it's become quite real and quite dangerous… IN HOT PURSUIT… The vicious attack Capt. Gabriel Huntley witnesses in a dark all...

---

Rebel

On the Canadian frontier in 1875, nature is a harsh mistress. But the supernatural can really do you in… A LONE WOLF Nathan Lesperance is used to being different. He's the first Native attorney in Vancouver, and welcome neither with white soci...

---

Stranger

He protects the world's magic -- with his science. But even the best scientists can fall prey to the right chemistry... LOOKING FOR TROUBLE Gemma Murphy has a nose for a story -- even if the boys in Chicago's newsrooms would rather focus on her...

---

Collision Course

/ Romance

In a galaxy torn apart by war…Mara Skiren is a scavenger, a black-market dealer. Blackmailed into helping Commander Kell Frayne infiltrate a treacherous corner of the galaxy, Mara learns that her biggest danger is from her sexy, by-the-book partner...

---

---

Devil's Kiss

A Handsome Devil 1762. James Sherbourne, Earl of Whitney, is a gambling man. Not for the money. But for the thrill, the danger -- and the company: Whit has become one of the infamous Hellraisers, losing himself in the chase for adventure and pleas...

---

Chain Reaction

/ Romance

Elite 8th Wing pilot Celene Jur was taken captive after a mysterious device temporarily disabled her ship's controls. Three solar months later, when Celene receives intel on the man who built the device, she's ready to get the bastard. Only problem i...

---

Skies of Fire

Captain Christopher Redmond has just one weakness: the alluring spy who loved and left him years before . . . when he was still just a man. Now he's superhuman -- a Man O' War, made as part of the British Navy's weapons program -- and his responsibil...

---

Demon's Bride

Hell To Pay Leo Bailey may have been born to poverty, but ruthless business sense and sparkling intelligence have made money worries a thing of his past. It doesn't hurt that the Devil himself has granted Leo the ability to read the future. But...

---

Skies of Steel

In the world of The Ether Chronicles, the Mechanical War rages on, and appearances are almost always deceiving . . . THE PRIM PROFESSOR Daphne Carlisle may be a scholar, but she's far more comfortable out in the field than lost in a stack of boo...

---

Sinner's Heart

Abraham Stirling, Lord Rothwell, was a fighter once, a soldier in the Colonies. But Bram returned to London with more nightmares than tales of glory. Now he drowns his senses in the arms of countless women, while his friends, the Hellraisers, ensure ...

---

Sweet Revenge

When Jack Dalton escapes from Dunmoor Prison, he has only one thing in mind -- finding the nobleman who murdered his sister and making him pay. But when he reaches the inn where the Lord Rockley is rumored to be staying, three well-dressed strangers ...

---

Skies of Gold

Two Lonely Hearts . . . Kalindi MacNeil survived the devastating enemy airship attack that obliterated Liverpool, but even her engineering skills can't seem to repair her broken heart. Seeking to put her life back together, Kali retreats to a des...

---

Winter's Heat

/ Historical Romance

It's Downton Abbey, Nemesis-style An auxiliary Nemesis agent and a former client go undercover as servants at a country estate during the Christmas season to expose corruption among London society's powerful elite. Michael and Ada never thought th...

---

Dangerous Seduction

In Zoë Archer's Dangerous Seduction, Alyce Carr has no time for the strange man in her little Cornwall village, no matter how breathtakingly handsome he is. Life in Trewyn doesn't allow for much fun -- the managers of the copper mine barely provid...

---

---

Wicked Temptation

Award-winning author Zoë Archer returns with another novel of breathtaking suspense as Nemesis, Unlimited schemes to avenge injustice--and conquer a woman's heart--in Wicked Temptation. FATE BROUGHT THEM TOGETHER. Newly widowed, Bronwyn Par...

---

Half Past Dead

/ General Fiction

---
Frequently Asked Questions (FAQ)
Zoe Archer has published 21 books.
Zoe Archer does not have a new book coming out soon. The latest book, Half Past Dead, was published in September 2021.
The first book by Zoe Archer, Lady X's Cowboy, was published in February 2006.
Yes. Zoe Archer has 4 series.